Tree Franklyn – Emotional Awakening for Sensitive Souls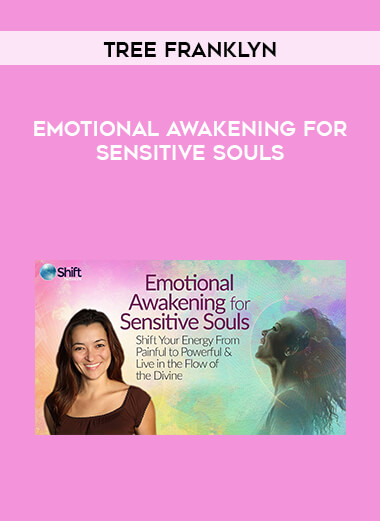 Salepage : Tree Franklyn – Emotional Awakening for Sensitive Souls
Course Content: What You'll Learn in These Seven Modules
Tree will take you through the foundational abilities and competencies you'll need to transmute your challenging emotions into strong energies that may release and empower your greatest strengths in this 7-part transformative intensive.
This course will include lessons, training sessions, and hands-on experiences using Tree. Each session will build on the preceding one, providing you a comprehensive holistic grasp of the techniques, skills, and principles you'll need to "catch" yourself in the midst of giving up your power (and energy), and more easily navigate a more self-empowering reaction — and life.
Module 1: Establishing the Groundwork for a Life of Freedom, Purpose, and Joy
Extend your understanding of who you are… With clarity and attention, you'll begin to recall your own Self and tap into the divine flow of your own vast power in this first module.
You'll get insights that will help you disclose your spiritual mission as an empath and inject meaning into your prior experiences – your most severe trials and suffering — in order to develop a greater appreciation for what you've gone through. You'll also discover insights that will help you manage your life as a sensitive soul in an insensitive environment.
You will learn:
The actual function of an empath (and why you absorb everyone else's energy)
The 3 Infinite Truths that will set you free – for a life of meaning, purpose, and pleasure
The distinction between who you truly are and who you believe you are
Empaths and sensitive souls go through four phases of emotional enlightenment.
An ancient therapeutic practice for releasing emotional barriers and clearing your energy.
Module 2: Identifying Your Evolutionary Pathway — Stage 1: The Identifier
Where do you fall on the empathetic evolutionary spectrum?
You will investigate a typical day in the life of a "first stage" empath – the Identifier (you may even recognize yourself). You'll discover what makes the Identifier tick – her triggers, thought processes, and default emotional state.
There is one thing that all Identifiers do that causes them to suffer. We'll go through this in detail, and you'll discover an exercise that will take you from a position of suffering (in the moment) to a place of power in seconds – a practice you can perform in the midst of your unpleasant emotions to turn your sorrow into power.
You will learn:
What you do that causes you emotional pain and how to stop it
How to quickly transition from any painful feeling (angry, worried, sad, etc.) to a state of calm empowerment.
Why are you emotionally and physically fatigued at the end of the day?
How to Stop Consuming Others' Emotions
A strategy for detaching from the chatterbox within your thoughts.
Module 3: Emerging from Identifier Mode — Stage 2: The Survivor
The Survivor has risen from Identifier mode and is no longer fully imprisoned by her previous demons – yet the memories of them continue to entice her. If you've ever felt bound, locked in reoccurring patterns in your relationships, money, job, or life, you'll find that the conclusion of the Survivor stage is when you begin to break free from these invisible chains.
You'll learn how to connect with what's genuinely vital to your soul (it's not what you believe) so you can finally let go of the past and chart a fresh path for your future. Your viewpoint will grow, and you will begin to see chances that you have never seen before – opportunities that have always been there, but you simply couldn't see them yet.
You will learn:
How to become aware of the tale that is driving your life.
Why not having a clear compass to guide you will keep you trapped in the past
How to forge a fresh soul-driven route in order to never get lost again
Why you've gone through what you've gone through — and how to appreciate even the most traumatic situations
The science of why you keep telling the same old tales, and the potential of telling new ones
Module 4: Seeing the Freedom and Joy That Awaits You — Stage 3: The Observer
The Observer observes the world and gains a greater grasp of what it's like to be removed from the Identifier and Survivor's drama. This is the start of your genuine independence and the endless delight that awaits you.
In this session, you'll debunk detachment fallacies and get answers to popular queries such, "Does detachment imply I have to give up my desires?" You'll also grow more silent on the inside, even if the outer world continues to shout. And when you begin to tap into the Divine Flow of life and become more aware of and linked to a bigger energy beyond yourself, you'll have a deeper understanding and acceptance for what is and what has been.
You will learn:
What it's like to live in harmony with the rest of the world
When you're nervous, anxious, or upset, try this easy strategy.
How to Reduce Noise in Your Head
How to make friends with your ego, often known as your fake or little self.
A sensory technique that will help you become more aware in the present moment.
Module 5: Control Loss — Stage 4: The Alchemist
The Alchemist moves about her day with knowledge of how she reacts to people and events, as well as what motivates her.
In this session, you'll learn about a third choice for dealing with your emotions besides expressing or repressing them, as well as what it means to transform your emotions. You'll see that surrender does not imply giving in to what everyone else wants. And you'll learn how to let go of control (trying to manage your own life, influence your reality, etc.) as well as real-world practical guidance on how to trust the Universe more.
You will learn:
What does it mean to be "in the flow," where every action is guided by Source?
The Surrender Technique
Beyond expressing or concealing your feelings, there is a third choice.
Why does forgiveness not matter at this level
How energy transference works and how to send energy to others to assist them in healing
Module 6: Expanding Your Spiritual Practice Through the 'Transcendental Plane'
When you've completed the four stages of emotional awakening for empaths, you become more conscious of and in touch with the Transcendental Plane — even though it's always been there.
In this session, you'll learn how to improve your spiritual practice of listening, trusting, and following instruction from this world of higher understanding, as well as how to harness the power of your intuition and distinguish between a notion in your brain and guidance from the Plane.
You'll learn about channeling and mediumship, as well as how to become more open to direction from this realm and apply it in your daily life. You'll also consider how all of your life experiences — good and terrible — have served as a roadmap to your higher Self, as well as how to interpret the clues you've never seen before and what to watch for in the future so you can embody more of your Divine Self in everyday life.
You will learn:
What your emotions have been trying to tell you the entire time
How can the apparent divide between the Spiritual and the Human (physical/material) be bridged?
How to Prepare for Wisdom and Guidance from the Transcendental Plane
How to utilize your human difficulties to build your faith in Spirit
Module 7: Integrating Your Emotional Awakening Into Daily Life
This last session will be a review of all you've studied thus far, including the Three Infinite Truths and the Four Stages of Emotional Awakening. You'll learn how to go ahead as an empath with this new information and how to incorporate all you've learned into your daily life.
You will learn:
How everything you've learnt connects
Common hazards that frequently occur at the conclusion of every learning session
Practical tools to keep you motivated and working long after the course is over.
A powerful guided meditation to help you connect with your soul so you can return there whenever you lose sight of yourself.