Terry Trundle – Joint Replacement Rehab for the Shoulder and Knee: Maximizing Functional Outcomes After Arthroplasty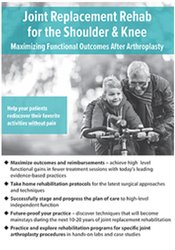 Salepage : Terry Trundle – Joint Replacement Rehab for the Shoulder and Knee: Maximizing Functional Outcomes After Arthroplasty
Courses Content :
Faculty:

Terry Trundle

Duration:

5 Hours 26 Minutes

Format:

Audio and Video

Copyright:

Oct 13, 2017
Description
Outline
TOTAL KNEE ARTHROPLASTY AND HEMIARTHROPLASTY
Anatomy of the articular cartilage and the progression of arthritis
Surgical options with gender-specific components and hemiarthroplasty
Missing links in preparing the operative procedure for the progression of the three phases of rehabilitation
MOBILITY AND MUSCULAR RECRUITMENT WITH EVIDENCE-BASED EXERCISES
Manual exercise for the patella-femoral joint
Extension re-lengthening by pre-functional mobility from hip to foot
Hip core strengthening – why is this so vital to recovery?
Open kinetic chain muscle recruitment – why terminal extension and short arc quads are not the same thing
Hamstrings over quadriceps co-activation exercises to prepare for function
Progressive closed kinetic chain loading: knowing that proprioception may be the missing link in recovery
LAB #1 – KNEE:
Manual therapy for mobility of the knee
Open and closed kinetic chain exercise for proprioception
TOTAL SHOULDER ARTHROPLASTY INCLUDING HUMERAL HEAD REPLACEMENT
Regular verses reverse prosthesis
Hemiarthroplasty for humeral head replacement
Why consider the reverse prosthesis and how it effects recovery
How do patients prescribe their function?
The importance of the Subscapularis protective protocol
Self-applied range of motion needs to be reconsidered
Scapular mobility and stabilization: the core of shoulder surgery recovery
Three vital motion patterns that produce the zone of function
EVIDENCE-BASED EXERCISES BASED ON THE MODE OF CONTRACTION
What is the missing link of total shoulder replacement
Formula of progressive rehab: pivoters, protectors, and positioners
Progressive exercise based on the modes of contraction
Corrective exercises for elevation "hike" dysfunction
The geriatric "Big Three"
LAB #2 – SHOULDER
Manual preparation of scapular and gleno-humeral mobility
Exercises for stabilization toward function
CASE STUDIES AND OUTCOME STUDIES
Faculty
---
Terry Trundle, ATC, LAT, PTA, has over 38 years of experience in clinical practice and offers educational programs on functional rehabilitation focusing on the upper and lower kinetic chain. He practices in the Atlanta area where he is the Owner and Director of the Athletic Rehab Institute and Sports Medicine. In addition, he serves as a rehab consultant for Benchmark Physical Therapy and as Chair of the Advisory Board for the annual Rehab Summit.
Mr. Trundle's research has been featured in numerous journals and publications, and he has received awards and recognitions by the American Physical Therapy Association and Medical College of Georgia as a leader in the field. Most recently, he authored a chapter on orthopedic management of the shoulder in Fundamental Orthopedic Management for the Physical Therapist Assistant. He is the co-producer of a four-part video series that includes exercises on the knee and shoulder and passive micro-mobility of the upper and lower kinetic chains.
Speaker Disclosures:
Financial: Terry Trundle is owner of Athletic Rehab Institute and Sports Medicine. He receives a speaking honorarium from PESI, Inc.
Non-financial: Terry Trundle is a member of the American Physical Therapy Association; and the National Athletic Trainers Association.
---