Susan Fralick-Ball – Neuromuscular and Neurodegenerative Disorders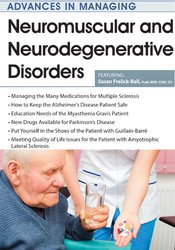 Salepage : Susan Fralick-Ball – Neuromuscular and Neurodegenerative Disorders
Courses Content :
Faculty:

Susan Fralick-Ball

Duration:

Full Day

Format:

Audio and Video

Copyright:

Dec 11, 2017
Description
Outline
Multiple Sclerosis
Initial Signs & Symptoms
Diagnostic Criteria
Medication Management from A to Z
New Medications Available
Symptom Management Strategies
Coping with Disabling Fatigue
Alzheimer's Disease
Principles for a Dignified Diagnosis
Know the 10 Signs
Identifying the Stage
Ensuring a Safe Environment
Advance Directives & Patient Wishes
Medication Options to Slow Progression
Myasthenia Gravis
Risk Factors
Medications to Avoid
The Autoimmune Process
Clinical Presentation
Pathways to Recovery
Medication Options
Cholinergic vs. Myasthenic Crisis
Critical Education Needs for Compliance
Parkinson's Disease
What We Know & Don't Know
Major Motor & Non-Motor Symptoms
Secondary Manifestations
Deciding When to Add Medications
New Medications for Symptom Management
Effectiveness of Deep Brain Stimulation
Alternative Treatment Options
Guillain-Barré
Disease Variants
Clinical Course of Recovery
Treatment Options
Preventing Secondary Injury
Psychological Stressors for the Patient & Family
Amyotrophic Lateral Sclerosis
Progression Challenges
Symptoms Related to Area of Loss
Interventions by Symptom
Assessing Quality of Life Issues
Clinical Trials for Treatment
Alternative Means of Communication
Helping the Family Cope with End of Life Concerns
Faculty
---
Dr. Susan Fralick-Ball, PsyD, MSN, CLNC, CH, is a licensed clinical neuropsychologist with an additional 40 years of clinical/educational nursing practice in a wide range of specialties. As a neuropsychologist, she has worked with patients having a vast variety of neurological disorders. Susan was responsible for coordinating all clinical and administrative activities for the stroke program of a nationally renowned neurological-medical rehabilitation hospital where she also developed a stroke support group for patients, family members, and staff. Additionally, she aided patients with neuromuscular and neurodegenerative disorders such as MS, Guillain-Barré, CIDP, Parkinson's, Myasthenia Gravis, ALS, Spinal cord injuries, TBI, head trauma, and dementias.
As a former member of the Neurocognitive Regional Conference Committee, Susan was instrumental in developing and speaking at conferences to teach medical and health care support staff about neurological challenges and developments. She has also taught neurological nursing and neurophysiology at the graduate level. She has mentored and supervised nurses, social workers, psychologists, and music therapists in the clinical setting. Dr. Fralick-Ball is the founder of the PsychMedEd where she continues to work with patients challenged by the detrimental psychological effects of neurological disorders, is a clinical neuropsychologist for the VistaMed group in the greater Philadelphia area, and a nationally recognized nursing/psychology educator and conference presenter.  She continues to lend social assistance to those with neurological disorders through her charitable organization, With Thy Grace.
---