Sue Morter – Unlocking Your Energy Codes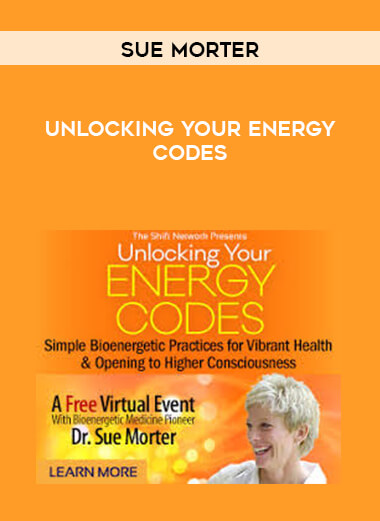 Salepage : Sue Morter – Unlocking Your Energy Codes
Courses Content :
Bonus Energy Codes Collection
You'll receive these amazing training sessions with the world's finest visionaries and instructors in addition to Dr. Sue's revolutionary 7-module course. These additional sessions supplement what you'll learn throughout the course and take your comprehension and practice to the next level.
"Being a Divine Messenger in the Twenty-First Century"
Dr. Sue Morter and Lisa Nichols have an audio conversation.
Dr. Sue and Lisa will examine what it means to be a 21st century divine messenger in this uncommon conversation between these two great speakers and instructors. This conversation will provide tremendous insight into your personal connection to your life's mission and what it means to show up as a conduit for a divine message every day, as they reflect on their successful careers that have impacted millions of people.
Lisa Nichols' strong message of empowerment, service, excellence, and appreciation has impacted millions both nationally and globally. Her participation in the self-development sensation The Secret rocketed her worldwide stardom. Lisa has appeared on the "Oprah Winfrey Show," "Extra," "Larry King Live," and the Emmy Award-winning show "Starting Over" on NBC. Lisa is the CEO of Motivating the Teen Spirit, LLC and the originator of Motivating the Masses.
Tens of thousands of teenagers and over a million adults have benefited from her transformational programs. Lisa has received several honors for her inspiring work, including the South African Humanitarian Award, the Ambassador of Good Will Award, the Emotional Literacy Award, and The LEGOLAND Foundation's Heart of Learning Award.
Michael Beckwith and Dr. Sue Morter provide the audio training Awaken Your Divine Potential and Uncover Your True Abundant Identity.
This powerful pair will expose the truth about the Real Abundance that lies at the center of your being in this one-hour extra session.
Michael Beckwith is the founder and spiritual director of Agape International Spiritual Center in Los Angeles, where he addresses a weekly audience of over 9,000 people. He is also the co-chair of the Season for Nonviolence alongside Arun Gandhi, and he was one of the prominent instructors in the film and book The Secret. He is one of America's most renowned spiritual leaders, motivating millions of people to change their lives.
What Others Have to Say About Dr. Sue Morter…
"Dr. Sue emphasizes embodiment, activation, and truly experiencing these realities." She gets people to say 'yes' to the core of their being. Dr. Sue is a genuine, true teacher who is doing meaningful work… It gives me great pleasure to be affiliated with her and to call her a friend and colleague."
Agape International Spiritual Center, Rev. Michael Bernard Beckwith
"In November, I had the honor of sharing the TEDxNASA stage with Dr. Sue…and it was an opportunity to watch genius in action. When I heard her speech, I realized that A) she is ahead of her time, which implies that B) the rest of us had a lot of catching up to do…truly a visionary."
– Award-winning talk radio host John St. Augustine
"Dr. Sue – What a privilege it was to interview and speak with you. You are an energizing, on-fire, and purposeful force whose objective is to implant in us an undeniable sense of our grandeur and deserving. You can't help but shift people."
Farhana Dhalla is an author, speaker, and coach.
"I wanted to express my heartfelt and overwhelming love and thanks for the influence you have on my life. Your work and material, which I have been studying for the last eight modules, has transformed me and continues to alter me every day as I evolve into the higher self that I am supposed to be."
– J.F. from Wisconsin
"I've attempted to meditate in a variety of ways around the nation, using a variety of approaches. I've visited Assisi, Italy, and Lourdes, France, as well as attempted Wayne Dyer and japa meditation. I relocated to Sedona, Arizona, and tried everything. I was unable to meditate. But, for some reason, the manner Dr. Sue performed it triggered my deepest meditation ever. It was incredible. Thank you very much for the opportunity. It transformed my life."
– Donna C. from Arizona
"I was browsing YouTube one day when I noticed your face on one of the videos and clicked on it. 'You are the one you have been waiting for,' said the video I watched. Your presence impacted me so hard at a moment when I was ready to collapse from mental and physical tiredness and call it quits… You touched my spirit… you EXACTLY conveyed what I needed to see and hear at the right moment and in the right way."
– A. from the United Arab Emirates