Sue DuPont – A Total Approach for Treating Neck & Scapular Disorders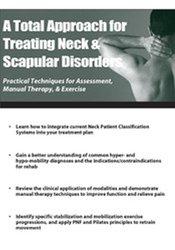 Salepage : Sue DuPont – A Total Approach for Treating Neck & Scapular Disorders
Courses Content :
Faculty:

Sue DuPont

Duration:

6 Hours

Format:

Audio and Video

Copyright:

May 15, 2013
Description
Outline
Introduction
Why we need to understand the neck and shoulder girdle better
Review of current biomechanical theories and research on cervical spine

Using Classification Systems and Functional Index findings to guide treatment planning
Causes of neck pain and disability—biomechanical and neurological changes
Common Hyper- and Hypo-Mobility Diagnoses Therapists Treat in the Cervical and Scapular-Thoracic Region
Whiplash, Herniated Nucleus Pulposus (HNP), spondylosis, radiculopathy, scoliosis
Hypo-mobility diagnoses—stenosis, kyphosis, facet joint dysfunction, Degenerative Disk Disease (DDD)
How Do We Stabilize?
Review of relevant functional anatomy of the cervical-scapulo-thoracic region
Discuss biomechanical model of the Cervical Motion Segment and effects of instability
Effects of posture and aging on tissue structure and motor control
Lab 1: Palpation AND Posture Assessment
Bony structures and gross muscle testing
Posture observations and documentation of scoliosis and scapular winging
Special tests—Jull's Test for Cranio-cervical stability, Standing Arm Elevation, Axial compression, vertebral artery, Spurling's test, and Scapular Balancing Index
Common Surgical and Non-Surgical Treatments
Laminectomy, discectomy, cervical fusion, disc replacement
Pain management strategies—spinal injections, trigger point injections, Botox, and acupuncture
Clinical Modalities—iontophoresis, manual vs. mechanical traction
Lab 2: Hands-On Treatment Techniques
Mobility testing and TMJ screening
Soft Tissue Mobilization—passive release, muscle energy release, and tissue unwinding
Demonstration of advanced mobilization techniques—MET and Mobilization with movement
Neuromuscular Re-Education: Clinical Applications AND Treatments
Pressure biofeedback for deep neck flexors and scapular stability exercises
Specialized taping techniques using kinesio-taping and McConnell taping strategies
Stabilization for Neck AND Scapula
Critical links and 3 Postural Zones
Weak links in the Stability Chain
Progression of Exercise Programs
Lab 3: Stabilization AND Scapular Mobility Exercises
Deep neck flexor training and Cervical "clock" exercises
Connecting the postural zones
Mobilization exercises for Scapular-thoracic region
Building scapula-thoracic postural control
Advanced exercise techniques—gliding discs, yoga, PNF, and dynamic reaction training
Faculty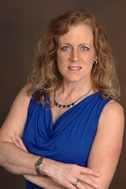 ---
Sue DuPont, MS, MBA, PT, ATC, is an expert in the field of orthopedics and sports medicine, with over 30 years of experience treating patients and athletes of all ages and activity levels. She holds multiple degrees including a B.S. in Exercise Science/Athletic Training, an M.S. in Biology specializing in Biomechanics, a post-baccalaureate degree in Physical Therapy, and an MBA in Healthcare Management. Ms. DuPont was on the Medical Staff at the 1996 Summer Olympic Games and awarded a 1-year fellowship at the U.S. Olympic Training Center. She has worked with various professional and elite athletes, from WTA pro tennis to World Cup Figure Skating. While working with the U.S.O.C. Biomechanics Division, Ms. DuPont researched and developed a Clinical Plyometrics protocol and presented the findings at the APTA National Conference.
Ms. DuPont has taught courses specifically for seniors on healthy aging and wellness. She is a veteran ACE Certified Fitness Instructor, teaching Pilates, kickboxing, and many other fitness courses for over 20 years. Ms. DuPont has performed extensive research on the spine, aging, balance, and fitness. In her clinical practice, she utilizes advanced clinical techniques in manual therapy, taping/strapping, active stabilization, and soft tissue release to improve functional movement patterns. Currently, Ms. DuPont teaches continuing education courses nationwide. When home in Florida, she treats patients/clients for physical therapy and wellness and sits on the Advisory Board for Southwest Florida University's PTA program.
Speaker Disclosures:
Financial: Sue DuPont has an employment relationship with Joint Implant Surgeons of Florida. She receives a speaking honorarium from PESI, Inc.
Non-financial: Sue DuPont has no relevant non-financial relationship to disclose.
---