Steve O'Brien – 2-Day Growing Up Anxious: Treating Anxiety Disorders in a Generation Hyper-focused on Achievement, Technology & Safety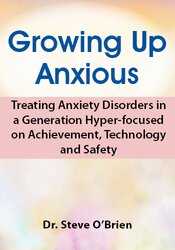 Salepage : Steve O'Brien – 2-Day Growing Up Anxious: Treating Anxiety Disorders in a Generation Hyper-focused on Achievement, Technology & Safety
Courses Content :
Steve O'Brien is a professor.
12 hours and 12 minutes.
Audio and video formats are available.
Copyright: September 22, 2020
Description

We all want our children to be successful, safe, and secure, but sometimes our best intentions have unforeseen effects.

Three sociological elements… a hyper-academic attitude, an obsession with safety, and a culture preoccupied with technology… are exacerbating childhood anxiety, making children afraid, avoidant, and unprepared for adulthood.

Watch child psychologist Steve O'Brien, Psy.D., describe a three-level treatment paradigm for kid anxiety employing focused, evidence-based therapy over the course of two days.

Connect with and "rewire" stressed-out children and families.
Give children age-appropriate information on anxiety and the brain.
Encourage self-expression and good coping in shut-down children.
Reduce teens' crippling social anxiety
Treat technological fears, obsessions, and compulsions.
Create anxiety-free safety strategies for upset children and parents.

Don't miss out on this cutting-edge curriculum that will equip and empower children to not just manage with anxiety, but to flourish as they gain a developing feeling of competence and confidence!

Handouts

Growing Up Anxious: A Manual (1.1 MB)

Outline 101 Pages Available After Purchase

GROWING UP ANXIOUS – 3 KEY INGREDIENTS EARLY EMPHASIS ON HIGH PERFORMANCE AND ACHIEVEMENT

The emotional consequences of a hyper-academic mentality and over-evaluation
Pitfalls of performance philosophy: perfectionism and procrastination
Individualism's negative consequences include anti-collaborative attitudes.

IMMERSION IN TECHNOLOGY: PLUGGED IN BUT TUNED OUT

Technologically smart yet socially inept
Online, you're fearless; IRL, you're terrified.
Grit-deficient, gratification-dependent

SAFETY AND POTENTIAL THREAT PREOCCUPATION

Overprotected but socially and emotionally undeveloped
How anxious children are influenced by dysregulated adults
Failure to launch: Why is "adulting" difficult and terrifying?

APPROACHES TO TREATMENT BASED ON EVIDENCE

Behavior modification/therapy
Cognitive-behavioral treatment (CBT)
Family and systemic treatment
Interpersonal counseling
Art/play/creative treatments
Therapies based on mindfulness

RAPPORT-BUILDING AND CLINICAL INTERVIEWING GUIDELINES

Semi-structured parent interviews: balancing involvement and efficiency
Developmentally appropriate kid interviews: Observation, play, and discourse are all integrated.
Consultation with parents: Creating a structure for parental engagement

THE FIRST INTERVENTION IN PSYCHOEDUCATION FOR PARENTS AND CHILDREN

Educating parents about their child's hyperactive brain
Providing a kid-friendly "brain tour"
Emphasizing the mind-body relationship
Anxiety Disorder in Social Situations
Comparing cognitive and physiological characteristics
Cognitive-behavioral techniques for pulling teenagers out of their brains and into the real world
Role-playing and free association games that encourage in-person interaction
Strategies for desensitization to counteract social avoidance

THE SECOND INTERVENTION IN BIOPSYCHOSOCIAL TREATMENT

"SLOWING THE PACE, LOWERING THE TEMPERATURE"
Emotional Intensity and Conflict Reduction for a Calmer Environment
Daily transition routines and healthy habits
Self-expression and help-seeking abilities
Recognize, Relax, and Redirect are the three R's of anxiety treatment.

THE THIRD INTERVENTION IN THE TREATMENT OF MAJOR (DSM-5TM) ANXIETY DISORDERS

Anxiety Disorder, Generalized
Recognizing Chronic Anxiety Symptoms
Discrediting the "what-if?" person using cognitive methods
Self-talk to strengthen the "helpful coach"
Worry-related cognitive-behavioral redirection
Overachievers benefit from paradoxical relaxation.
Separation Anxiety Illness
Considering psychological and physical aspects
Preparation for treatment: It's all about the strategy.
Putting together a treatment-support team
Plans of action for high-stress situations
Techniques for distressed/involved parents
Panic Disorder and Phobias
Symptoms of cognitive and physical/physiological nature
Ingredients required for desensitization
"Challenge ladders" for progressive exposure
Panic-prevention techniques
Obsessive-Compulsive Syndrome
Obsessive-compulsive symptomatology varies
For inflexible perfectionists, "brain challenges"
Mindfulness techniques for high-threat perceivers include "balloon breathing and wet noodles."
Controlled withdrawal and substitution for tech addicts

TREATMENT IMPLICATIONS, RISKS, AND LIMITATIONS FOR CO-OCCURING DISORDERS

Disorders of Depression
Attention-Deficit/Hyperactivity Disorder
Autism Spectrum Disorders (ASDs)

SCHOOL ANXIETY: CONSIDERATIONS AND CLASSROOM APPLICATIONS

Relationship development with distressed/disruptive children
Managing the (dreaded) 3 Ds: Defiance, Disrespect, and Disruption
Making a peaceful and responsive classroom
Task avoidance and exam anxiety can be reduced.
Controlling compulsive technology use
Bullying detection, intervention, and prevention
Suggestions for (post-)pandemic recovery

MEASUREMENT OF TREATMENT PROGRESS

Symptomatology and functional level evaluation
Consultation with the school and recommendations
Medication: Discussion and Referral Guidelines
Faculty
Psy.D., PA Steve O'Brien 3 Dr. related lectures and products:

Dr. Steve O'Brien is a clinical psychologist in Clearwater, Florida with than 30 years of expertise treating children, adolescents, and families. Treatment for childhood anxiety and depression, ADHD, Autism Spectrum Disorders, and divorced/blended family adjustment are among his specialties. Dr. O'Brien employs an integrated methodology that tailors treatment to both children's and parents' developmental levels. Individual child therapy is combined with intense parental and family interventions in his method.

Dr. O'Brien has experience working in a wide range of therapeutic settings, including community mental health centers, psychiatric hospitals, and medical clinics. At Nova Southeastern University, he acquired his PsyD and specialized specialization in applied developmental psychology. His clinical work includes pediatric, child psychiatric, and school consultancy, and he is a regular guest lecturer in the Tampa Bay region. Dr. O'Brien previously served as a continuing education provider for the Juvenile Welfare Board and is now a popular lecturer for PESI, especially teaching professionals in the areas of child/adolescent mental health therapy and complicated family difficulties. From 2000 until 2016, he was an associate professor at the Florida School of Professional Psychology. During his time at the University, he created a one-of-a-kind doctoral-level course called 'Parent Consultation,' which was meant for graduate students seeking a concentration in child-family evaluation and therapy. Dr. O'Brien created '[email protected] by Psychtouch.com' in 2015, a first-of-its-kind therapeutic tool/app for assessing a child's view of home life. He is also a media consultant for Spectrum Bay News 9, Tampa Bay's 24-hour news channel.

Disclosures for Speakers:

Steve O'Brien is a private practitioner. PESI, Inc. pays him a speaking honorarium.

Steve O'Brien belongs to the American Psychological Association and the Florida Psychological Association.
---