Saj Razvi – Trauma Therapy: A Cutting-Edge Approach for Resolving Trauma & Healing PTSD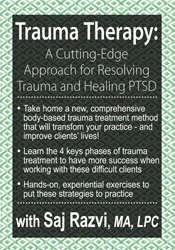 Salepage : Saj Razvi – Trauma Therapy: A Cutting-Edge Approach for Resolving Trauma & Healing PTSD
Courses Content :
Faculty:

Saj Razvi

Duration:

6 Hours 16 Minutes

Format:

Audio and Video

Copyright:

Feb 25, 2016
Description
Outline
The Latest Research on Trauma
The impact of trauma on mental illness
The impact of trauma on physical illness
Outcomes of unresolved trauma
How and Where Trauma is Stored
How to navigate the three memory systems

Semantic (narrative) memory
Event (autonomic) memory
Procedural (behavioral) memory

Strategies for matching specific interventions to memory systems
The Autonomic Nervous System
5 discrete autonomic nervous system states used to respond to trauma
Mild stress to full dissociation
Bottom-up processing
4 Essential Phases of Trauma Therapy
Resourcing
(Re)establishment of boundaries, trust and attachment
Containment through the autonomic nervous system
Integration
Trauma Therapy and Other Mental Health Disorders
Addiction recovery

​How trauma can complicate recovery
Integrating recovery and trauma therapy

​Differential Diagosis

Bipolar disorder
Depressive disorders
Anxiety-based disorders
Strategies for Traumatic Transference
Working with transference is essential for processing trauma
When and how to move away from and toward transference
The 4 transferential "roles": victim, perpetrator, bystander and savior
Experiential Lab I – Somatic Containment of Stress and Trauma
Transform the theory into practice
Traumatic change heals by sequencing through the body
Mindfulness to track somatic process
Viscerally feeling the 5 different nervous system states
Empathy for where you're leading clients
An entirely new understanding of how to heal PTSD
Experiential Lab II- The Foundation of Resourcing
Resourcing as the first phase of most trauma, exposure therapies
The skill of autonomic regulation
Self-soothing techniques to develop new habitual coping responses
Trauma management vs. over-resolution
Guide clients out of trauma and stress into their own refuge
Faculty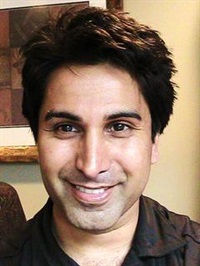 Executive Director
Trauma Recovery Institute
---
Saj Razvi, MA, LPC, is a co-founder of Trauma Dynamics in Denver, CO, he is also a sub-investigator for the MAPS sponsored FDA trial of MDMA-assisted psychotherapy for treatment resistant PTSD, and faculty at the University of Denver's Center for Professional Development. He is a trauma expert and researcher who also leads Trauma Dynamics trainings at the University of Denver and nationally for graduate students, professional therapists and medical professionals. Saj is the co-author of Trauma Dynamics: A Therapist's Guide to the Art & Science of Healing PTSD Through the Body.
---