Ross LaBossiere – Effective Mindfulness Interventions for Rehab: Improving Outcomes with Relaxation, Breath, & Movement Awareness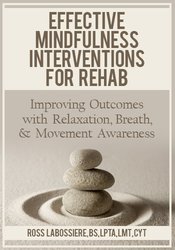 Salepage : Ross LaBossiere – Effective Mindfulness Interventions for Rehab: Improving Outcomes with Relaxation, Breath, & Movement Awareness
Courses Content :
Faculty:

Ross LaBossiere

Duration:

6 Hours 1 Minutes

Format:

Audio and Video

Copyright:

Apr 19, 2018
Description
Outline
THE MIND-BODY CONNECTION
What is mindfulness?
Define the mind-body connection
Integration into physical rehabilitation
Misconceptions about yoga and meditation
Evidence-based research
RELAXATION THROUGH BREATH AWARENESS
Relationship between stress, tension, and breath
Quieting the mind and body
Developing a relaxed, rhythmic and diaphragmatic breath
Strategies for clinical integration
THE RELAXATION RESPONSE TO REDUCE MUSCLE TENSION AND PAIN 
Deeper relaxation via the "body scan" technique
Improving proprioceptive sensory awareness
Identifying and releasing tension
Holding patterns of muscles and breath
Clinical strategies for pain management
Applications to passive manual techniques
MOVEMENT AWARENESS TO IMPROVE THERAPEUTIC EXERCISE
Understand the patient's pain and apprehension
Relaxation, posture, and body mechanics
Basic concepts of myofascial release and the neuromyofascial web
MINDFUL MOVEMENT TO IMPROVE HEP AND SELF-TREATMENT 
Synchronizing mind, body, and breath
Difference between stretching and releasing
Mindful movement routines for the neck and back
Examples for a variety of standard therapeutic exercises
Adaptive strategies for difficult patients
Proprioceptive acupressure/trigger point self-release
IMPROVING COMPLIANCE & OUTCOMES
Mindfulness in AROM, strength, flexibility, return to activity, and recreation
Strategies for self-treatment between visits
Taking the "chore" out of Home Exercise Programs
Create a supportive space for mind/body integration
Faculty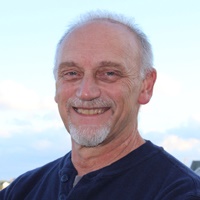 ---
Ross LaBossiere, BS, LPTA, LMT, CYT, is a licensed physical therapist assistant, licensed massage therapist, and certified yoga instructor/therapist with over 35 years of experience in both clinical and non-clinical settings. Along with his work in clinical outpatient physical therapy, he is the owner/operator of Lifewaves Integrated Therapy (est.1982), a private practice in Rhode Island offering Mind-Body Health Maintenance and Rehabilitation. Ross graduated from the University of Rhode Island with a Bachelor of Science in Health/Adapted Physical Education and completed all course work in the graduate program for Exercise Science, with a concentration in Musculo-Skeletal Physiology/Rehabilitation. In conjunction with his 35 years of conducting various workshops and classes in the clinical setting, he also spent over a decade as an independent contractor with BCBSRI/Health and Wellness Institute, providing his mindfulness-based relaxation, stress management, and integrated yoga programs to corporate/worksite settings. He has produced an instructional audio program, Lifewaves Breath Awareness. He is a former member of the American College of Sports Medicine and is a current member of the International Association of Yoga Therapists.
---