Richard Sears – CBT for Cluster B Personality Disorders: Techniques and Strategies You Need to Know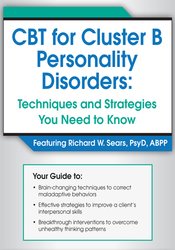 Salepage : Richard Sears – CBT for Cluster B Personality Disorders: Techniques and Strategies You Need to Know
Courses Content :
Faculty:

Richard Sears

Duration:

3 Hours 3 Minutes

Format:

Audio and Video

Copyright:

Jul 18, 2019
Description
Outline
What You Need to Know about Cluster B Diagnoses and Approaches
Diagnostic criteria: borderline, antisocial, histrionic, narcissistic personality disorders
Key features of each disorder – differential diagnosis considerations
Top indicators of PD you won't find in the DSM-5®
5 things you probably never knew about cluster B personality disorders
How to avoid judgment and labeling and its importance
CBT Treatment Strategies and Techniques for Cluster B – Your Guide to Practical Application
Behavior – How to Approach Maladaptive Behavior, Self-Sabotage, Manipulation and Attention Seeking
How to shift behaviors that have been conditioned over a lifetime
Disrupting reinforcement
5 things you may be doing that actually reinforces maladaptive behavior
Practical application of classical and operant conditioning concepts
Roots of behavioral therapy

Psychoeducation: Increase clients' insight into how their behavior is reinforced
Exposure techniques: Build distress tolerance and momentum toward healthier choices
Chain analysis: How to address a client's feelings of hopelessness, improve awareness and identify precipitating factors and choice points

Case study – Sam, The Man Who Blames Everyone Else
Cognitive – How to Recognize and Interrupt Unhealthy Thinking Patterns
How to address negative beliefs about treatment, the experience of negative emotion and getting better
How to adapt cognitive techniques specifically for Cluster B

ABC records and Challenging Beliefs Worksheets
Socratic dialogue
Common cognitive distortions

Why challenging your client's thoughts can make things worse
Case study – Martha, The Woman Who Confused her Thoughts and Memories with Reality
Mindfulness and Acceptance – Break Free of Distressing Thoughts, Feelings and Behaviors
How to increase psychological flexibility, decrease emotional intensity, and focus on the bigger picture
Why mindfulness and relaxation are not the same thing
Mistakes with mindfulness – inadvertently encouraging avoidance
How to adapt mindfulness and acceptance techniques for Cluster B

Cognitive defusion: Stepping back from thoughts
Acceptance: Letting go of control
Mindfulness: Foster the ability to stay present
Observing the self: Develop a bigger sense of who you are
Identify values: Finding the "why"
Take committed action

Case study – Arthur, the Loving, Self-Centered Father
Special Clinical Considerations for Personality Disorder Practitioners
Crisis management: Suicidal ideation/gestures, self-injury
Create a clear crisis management plan to keep clients safe and avoid personal liability
What you need to avoid – documentation considerations and more
5 signs you need to check your boundaries
Preventative measures – to avoid boundary violations and false reporting to licensure board
Strategies for recognizing and addressing countertransference – being honest without getting lost
Top 3 tips for staying present in session

Balance boundaries with compassion
Model presence with distress, not joining the emotional chaos
Internal messages – Not getting sucked in

Exercise: People that bother me
Faculty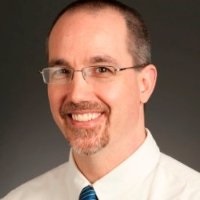 Director
Center for Clinical Mindfulness and Meditation
---
Richard Sears, PsyD, PhD, MBA, ABPP, is a licensed psychologist in Cincinnati, Ohio, board certified in clinical psychology by the American Board of Professional Psychology (ABPP), runs a private psychology and consultation practice, and is the Director of the Center for Clinical Mindfulness & Meditation. He is also clinical assistant professor at Wright State University School of Professional Psychology, clinical/research faculty at the UC Center for Integrative Health and Wellness, volunteer professor of Psychiatry & Behavioral Neurosciences at the UC College of Medicine, and a research/psychologist contractor with the Cincinnati VA Medical Center.
His most recent books include: Cognitive Behavioral Therapy & Mindfulness Toolbox (PESI, 2017); Mindfulness: Living Through Challenges and Enriching Your Life in this Moment (Wiley-Blackwell, 2014); Perspectives on Spirituality and Religion in Psychotherapy (PR Press, 2014); Building Competence in Mindfulness-Based Cognitive Therapy (Routledge, 2015); and Mindfulness-Based Cognitive Therapy for PTSD (Wiley-Blackwell, 2016). Dr. Sears is lead author of Mindfulness in Clinical Practice (PR Press, 2011) and Consultation Skills for Mental Health Professionals (Wiley, 2005).
Dr. Sears is a fifth-degree black belt in Ninjutsu, and once served as a personal protection agent for the Dalai Lama with his teacher, Stephen K. Hayes. He has studied the Eastern Wisdom traditions for over 30 years, receiving ordination in three traditions, and has been given transmission as a Zen master.
Speaker Disclosures:
Financial: Richard Sears holds faculty appointments at the University of Cincinnati. He receives a speaking honorarium from PESI, Inc.
Non-financial:  Richard Sears is a diplomate of the American Board of Professional Psychology and is a fellow of the Academy of the American Board of Clinical Psychology.
---