Peter Levine – 2-Day Trauma & Memory Workshop: Clinical Strategies to Resolve Traumatic Memories and Help Clients Reclaim Their Lives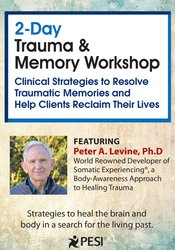 Salepage : Peter Levine – 2-Day Trauma & Memory Workshop: Clinical Strategies to Resolve Traumatic Memories and Help Clients Reclaim Their Lives
Courses Content :
Faculty:

Peter Levine

Duration:

10 Hours 19 Minutes

Format:

Audio and Video

Copyright:

Oct 28, 2019
Description
Outline
Trauma and the Body
Developmental trauma
Evolution and Polyvagal foundation
How the body stores trauma
Clinical research
Deeper Understanding of Memory and Clinical Implications
Explicit – More Conscious Memory
Implicit – Less Conscious Memory

Emotional
Procedural/Body Memory

Clinical application for memory systems
Traumatic Memories
Long-term memory vs short-term memory
How the brain and body store memory
Memory engrams with somatic markers
Fight, flight, freeze response
How Clients Get "Stuck"
Tonic immobility – The fallback to freeze
Freeze couples with Fear
Dissociation
Bracing and terror
Euphoric dissociation
Collapse
Somatic and Emotional Reactions to Trauma
Symptoms and complexities of each in therapy
Emotional – anxiety, depression
Somatic – chronic pain, fibromyalgia
Autonomic – migraines, irritable bowel
Resolving Traumatic Reactions
The Basic Stages of Trauma Treatment
Containment of strong sensation and emotion
Pendulation – The dual opposites of sensation
Titration – going gradually
Completion
Renegotiation of active for passive responses
Allow things to settle: Self-Paced termination
Therapeutic Approaches to Treat Traumatic Memories
The importance of "Bottom-Up" processing

The Paul MacLean's Triune Brain
In an Unspoken Voice

Somatic Experiencing©

Renegotiation vs. Reliving
Restoration of self-regulation
Somatic experience of trauma
Developing internal awareness

The mind-body connection in trauma work
Help reinforce trust and acceptance in clients
Incorporating client's spirituality in trauma work
Faculty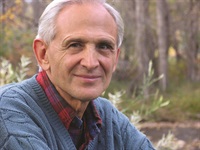 ---
Dr. Peter Levine holds doctorates in both medical biophysics and psychology. He is the developer of Somatic Experiencing® (SE), a naturalistic body-awareness approach to healing trauma, which he teaches all over the globe. Dr. Levine is also the founder of the Foundation for Human Enrichment and was a stress consultant for NASA during the development of the space shuttle.
An accomplished author, Dr. Levine penned Healing Trauma, Sexual Healing and the bestselling book, Waking the Tiger. He also co-authored with Maggie Kline Trauma Through a Child's Eyes and Trauma-Proofing Your Kids. His latest book, In an Unspoken Voice: How the Body Releases Trauma and Restores Goodness, is a testament to his lifelong investigation into the connection between evolutionary biology, neuroscience, animal behavior, and more than 40 years of clinical experience in the healing of trauma.
Dr. Levine was honored in 2010 with a Lifetime Achievement Award from the United States Association for Body Psychotherapy (USABP) and is a Senior Fellow at Meadows Behavioral Healthcare.
Speaker Disclosure:
Financial: Peter Levine is the Developer of Somatic Experiencing®. He is the founder and Senior Advisor to the Foundation for Human Enrichment; and Senior Advisor to The Meadows Addiction Treatment Center. Dr. Levine receives a speaking honorarium from PESI, Inc.
Non-financial: Peter Levine is a member of the American Psychological Association; Humanistic Psychological Association; and International Society for Traumatic Stress Studies.
---