Mike Begg – Advanced Clinical Orthopedics Lab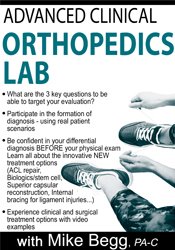 Salepage : Mike Begg – Advanced Clinical Orthopedics Lab
Courses Content :
Faculty:

Mike Begg

Duration:

Full Day

Format:

Audio and Video

Copyright:

Oct 11, 2016
Description
Outline
Sessions will be presented with a mock patient presentation (case study) including: History and Physical, Exam Findings, Special Tests, Diagnosis, Treatment Options, Recovery/Rehabilitation Goals.
Lower Extremity Injuries
Knee Injuries
Ligament Injuries

ACL – Conservative treatment vs. reconstruction vs. repair
MCL – Conservative vs. internal brace
FCL – Repair vs. reconstruction

Cartilage Injuries

Chondral defects – Non-op, biologics, allograft – or other…
DJD – PT, bracing, (Steroids – HA -Biologics) or surgery

Patellar Injuries

Instability – Non-op vs. MPFL repair or reconstruction… and when
Youth Injuries
Overuse and acute injury… What's right for the kid?
Hip Injuries
Labral injuries
How do we know, what do we do, how do we do it
Biologic injections
Ankle Injuries
Ankle sprains
Conservative care vs. internal bracing
Jones vs. Pseudo Jones – what's the difference and who cares?
Achilles tendonitis – Biologics?
Achilles rupture – Conservative vs. surgical treatment
Upper Extremity Injuries
Rotator Cuff Injuries
Impingement – What to do? PT, injection, surgery
Partial thickness tears – What happens with… PT, biologics, surgery?
Full thickness tears – When is surgery needed?
Irreparable RCT – Superior capsular reconstruction vs. reverse TSA
Labral Injuries
SLAP repair vs. biceps tenodesis – does it matter?
Glenohumeral instability – Bankart lesions
Acromio-clavicular & sterno-clavicular injuries – What to do and when?
Youth Injuries
"Little Leaguer's Shoulder"- What is it? How do we prevent it?
Elbow Injuries
Ligament injury
Ulnar collateral rupture – Conservative, reconstruction or internal brace?
Fracture Care
Clavicle fractures – Non-Op vs. ORIF, dynamic stabilization, biologics
Hip fractures in elderly – early mobilization (the key for overall recovery)
Youth – long bone fractures
OBJECTIVES
Discuss the focused history taking and examination techniques of some of the world's most respected orthopedic surgeons.
Evaluate decision-making processes regarding conservative and surgical treatment options for commonly-experienced orthopedic problems.
Formulate new methods to effectively educate your patients regarding their injuries, innovative treatment options, recovery steps and expectations.
Develop skills to identify injuries specific to youth and adult populations.
Translate knowledge of the latest, cutting-edge treatment options with your peers, patients and referral sources.
Compare your current physical evaluation skill set with best practices demonstrated.
Faculty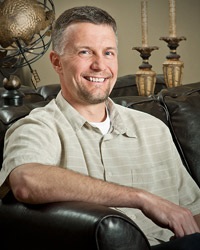 ---
Mike Begg has over 25 years of experience in sports-related injuries. Initially, he worked as a certified athletic trainer for NAIA, NCAA and Professional Athletic teams and then as a certified physician assistant in orthopedics and Orthopedic surgery. While obtaining his bachelor's degree and master's degree in athletic training/sports medicine, he was able to gain practical experience working with injured athletes. Mike followed up these experiences by teaming with a physical therapist in an outpatient physical therapy clinic treating multiple non-operative and post-operative patients.
Experience gained working "on the field" with multiple athletic teams, as well as working in the clinical rehabilitation setting, formed the solid foundation of Mike's understanding of athletic injuries and how to get these athletes back into action. These experiences were fulfilling, but left him with a desire to know more about "the rest of the story." Mike went on to complete Physician Assistant training and now works with physicians in an Orthopedic/Sports Medicine practice in Durango, Colorado. Experience gained on the playing field, in the operating room and in the clinical setting working side by side with various orthopedic surgeons helped solidify his understanding of what it means to treat the "Injured Athlete".
Disclosures:
Financial: Michael Begg is receiving a fee for speaking at this educational activity.
Nonfinancial: Michael Begg has no relevant nonfinancial relationships to disclose.
---