Malka Stromer – Point of Care Ultrasound Course: Diagnose the Critical Issues Faster!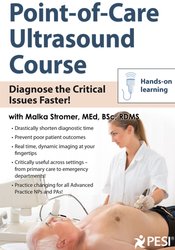 Salepage : Malka Stromer – Point of Care Ultrasound Course: Diagnose the Critical Issues Faster!
Courses Content :
Malka Stromer is a professor.
5 hours and 56 minutes.
Audio and video formats are available.
Date of publication: March 2, 2020
Description

In the fast-paced environment of healthcare, you have little time to make vital decisions. While you order and transfer the patient for imaging, precious minutes pass.

The use of point-of-care ultrasonography (POCUS) is transforming the way advanced practice health providers evaluate new patients. Imagine being able to diagnose a patient's interior condition on the spot! This capability is provided by point-of-care ultrasonography.

The days of depending exclusively on the stethoscope are long gone; you no longer have to rely solely on hearing and looking. Remove the blinders that has been stopping you from studying tissues in vivo dynamically! You will establish a new standard of evaluation with this game-changing technology:

Determine the presence of fluid in the pericardium.
Recognize abdominal aortic aneurysms as soon as feasible.
Prevent a DVT from embolizing by catching it early.

This video will lead you through everything you need to know to get started with point-of-care ultrasound imaging, from general care to emergency treatment. With this tool, you can swiftly pinpoint a diagnosis while also reducing unneeded radiation.

Discover why this technology is sweeping the medical world!

Handouts

Point-of-Care Ultrasound Course Manual (23.2 MB)

Outline: 83 Pages Available After Purchase

What You Should Know About Point-of-Care Ultrasound vs. Traditional Imaging

Imaging: dynamic vs. static
Comparison on each sides
Solid vs. fluid distinction
Radiation vs. sound waves

Acquaint yourself with the device.

Determine the best transducer and pressure placement.
What are the functions of all the knobs?
Gray vs. white vs. black – Tissue and structural echogenicity

Image Interpretation and Evaluation

Evaluation step-by-step guide
Protocol for optimal patient posture and scanning
Find the anomaly!

Aortic Aneurysm in the Abdomen (AAA)

Asymptomatic and easily missed in the absence of POCUS Prevention – who is most at risk?
Primary care screening procedure

Trauma to the Abdomen

Internal bleeding is a ticking time bomb.
The easy target is liver damage caused by blunt force trauma.
The spleen is a common cause of bleeding.

Hepatobiliary

The gallbladder is the most common cause of abdominal discomfort.
Gallbladder attack, biliary dilation

Lung and Cardiac

Effusions of the pleura and pericardium
Overload of the heart
Lung collapse

Deep Vein Thrombosis of the Lower Extremity

Recognize the warning symptoms early: Leg swelling and discomfort
Catch them before they embolize the place.

First Trimester Obstetrics

Is what you're witnessing typical of the situation?
Recognize embryologic structures
Pregnancies that are ectopic or tubal

Creating a new frontier

Risks and constraints
When should extra imaging be performed?
Coding and billing
Faculty, here are some pointers on incorporating this service into your wheelhouse.
MEd, BSc, RDMS Malka Stromer Seminars and items that are related: 1

Malka Stromer, MEd, BSc, RDMS, is a licensed diagnostic medical sonographer in Toronto, Canada, where she received her clinical training at the University Health Network and Mount Sinai's Center of Excellence in Obstetrical Ultrasound. Malka has spent the last 13 years of her work as a lecturer spreading her passion for sonography. Malka has lectured at a number of professional conferences and educational institutions on themes ranging from bowel sonography to her study on the ethics of obstetrical ultrasound. She has written a chapter in a sonography textbook and received a research grant from the SDMS, as well as the John and Suanne Rouche Excellence Award from the League for Innovation in Community Colleges. Malka is the proprietor of Sound Sports Imaging, LLC, and she currently teaches point-of-care and musculoskeletal ultrasound to health care professionals all over the world alongside her colleague Jeannine Noble.

Disclosures for Speakers:

Malka Stromer is the managing partner of Sound Sports Imaging, LLC. She works as an adjunct professor at Midwestern University-Arizona. Ms. Stromer is currently employed with Arizona Women's Care. PESI, Inc. pays her a speaking honorarium.

Malka Stromer is a non-financial member of the American Registry for Diagnostic Medical Sonography.
---