Lynne Kenney – Executive Function in the Classroom: 30 Cognitive-Motor Activities to Improve Attention, Memory & Self Regulation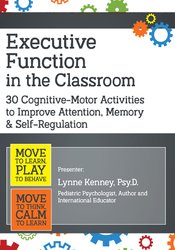 Salepage : Lynne Kenney – Executive Function in the Classroom: 30 Cognitive-Motor Activities to Improve Attention, Memory & Self Regulation
Courses Content :
Faculty:

Lynne Kenney

Duration:

Full Day

Format:

Audio and Video

Copyright:

Nov 14, 2019
Description
Outline
What You Need to Know about Movement and Cognition
Explore new neuroscience + kinesiology + education research
Teach children how the brain is built – manage their 3-part brains
Define & teach executive functions to children
Embodied cognition – learning is a whole-body experience
Bring daily physical activity into the classroom
Current Research on the Role of Movement in Learning
Physical activity improves health and academic achievement
Types of exercise that improve executive function
How to Implement a movement schedule
Using collaboration and student creativity to improve behavior
Activities, Tools and Strategies
Alerting, Attending and Energizing
March Match
Find The Pulse
Clap & Tap
I'm a Star
Over the Line in 4/4 time
The Little Jane Fonda
Wave Jump
Switch Tasks
Clap, Snap, Tap
Rhythm and Rhyme
Body Percussion
Pretend Drums
Self-Regulation
The difference between self-regulation and self-control
Task demands and perceived stress
Stressor identification & arousal states
Slowing down for better cognitive control

Keeping the marshmallow in the middle
Entrainment and Synchrony
Entrain me (Walk & Bounce with me)
Co-Regulation – Swing, sway, sing
Meditation and Mindfulness
The Music Carpet Ride
Middle C OHM
Head, Shoulders, Hips & Knees
Tai Chi
Pretend Balance Beam
Yogivate in ACTIVATE
Rhythm Ball
3, 5, 7, 9 For Calming in Time
Mirroring with Big Ben
Attention/Memory
The BIG 3 – attention, working memory & self-control

Having a Ball!
ACTIVATE
The Secret is The Sequence
The Parts of the Task Game
Cognitive Conversations
The THINK Cards
My Attention Engine
Play Math
Behavior
Anxiety, agitation and hopefulness
What to say, think and do when children are escalating
The power of self-talk

Who's Jelly Beans Am I Holding?
The Purpose Circle
What's In It For Me?
Anger and Perceived Loss
Anger Mountain
My Anger Manager
I'll Give This 10
Faculty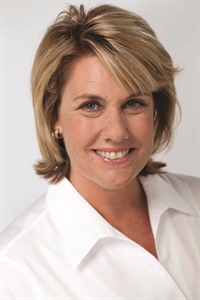 Lynne Kenney, Psy.D. Related seminars and products:
11
Move2Think, LLC
---
Lynne Kenney, Psy.D., is the nation's leading pediatric psychologist in the development of classroom cognitive-physical activity programs for students grades K-6. Dr. Kenney develops curriculum, programming, and activities to improve children's cognition through coordinative cognitive-motor movement, executive function skill-building strategies, and social-emotional learning.
Dr. Kenney has advanced fellowship training in forensic psychology and developmental pediatric psychology from Massachusetts General Hospital/Harvard Medical School and Harbor-UCLA/UCLA Medical School. She holds a Master's Degree in Physical Education from the University of Southern California and a Doctorate in Psychology from Pepperdine.
Dr. Kenney's books include, 70 Play Activities for Better Thinking, Self-Regulation, Learning and Behavior with Rebecca Comizio (PESI, 2016), the Social-Emotional Literacy program, Bloom Your Room™ (Mrs. Beetle's Books, 2017), Musical Thinking™ (Unhooked Books, 2016), and Bloom: 50 Things to Say, Think and Do with Anxious, Angry and Over-the-Top Kids with Wendy Young (Unhooked Books, 2015). Her professional development platform, The Kinetic Classroom, brings executive function education and cognitive-motor movement to educators and clinicians worldwide.
Since 1985, Dr. Kenney has worked as an educator in community service from the inner cities of Los Angeles to national organizations such as the Neurological Health Foundation, Understood.org, HandsOn Phoenix, and Points of Light (Generation On). She values closing the education gap in poverty and enjoys working with Title I schools.
Speaker Disclosures:
Financial: Dr. Lynne Kenney maintains a private practice. She is an author for Unhooked Media, Better Life Media, Inc., Moving Minds and Move 2 Think, LLC. Dr. Kenney is the creator of The Kinetic Classroom. She receives a speaking honorarium from PESI, Inc.
Non-financial: Dr. Lynne Kenney has no relevant non-financial relationship to disclose.
---