Lois Fenner – Legal and Ethical Issues in Behavioral Health in New Mexico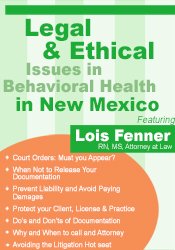 Salepage : Lois Fenner – Legal and Ethical Issues in Behavioral Health in New Mexico
Courses Content :
Lois Fenner is a professor.
5 hours and 48 minutes.
Audio and video formats are available.
May 23, 2019 Copyright
Description

You may suffer serious legal and financial implications if you do not maintain the necessary legal understanding. This tape will show you how to continue to assist the folks you've been educated to assist while also protecting yourself from several legal dangers. If you only watch one video this year, make it this one.

Watch attorney Lois Fenner for an amusing and instructive day and leave with a better grasp of the most recent New Mexico mental health regulations. You will leave with practical tactics for minimizing and managing legal and ethical concerns, as well as instructions on how to immediately use these risk-reducing strategies in your practice.

Handouts

Legal and Ethical Issues Manual (18.92 MB)

Outline 91 Pages Available After Purchase

Mental Health Records Overview/Confidentiality

When and to whom can records be released?
Mandatory Transparency Requirements
Treatment Records for Alcohol/Drugs and AIDS/HIV
Documentation Required

HIPAA 101: Federal Confidentiality Laws

What Does HIPAA Mean Today?
How Do I Comply With the Laws?
What Exactly Are "Psychotherapy Notes"?
When Am I Allowed to Release Records?
How much paper will this generate for my office?

Responding to Subpoenas, Court Orders, and Police Requests

Subpoenas; Subpoena Types; Duty to Respond; Time Restriction
Court Orders & Search Warrants
Investigations with the Authority to Obtain Information
Policy and Procedure Development in Response

Balancing Minors' and Parents' Rights

Rights of Minors
The Age of Majority
Minors' Rights to Refuse/Consent to Medication and Treatment Alcohol, Drug Abuse, and Treatment Issues for Minors
Parental Authority
Factors Influencing Custody and Divorce
Allegations of Child Abuse
Non-Custodial vs. Custodial Parental Records Rights

Commitments to Mental Health, Voluntary and Involuntary

Reasons to Make a Voluntary or Involuntary Commitment
Involuntary Commitment Grounds: Dangerousness (as Defined by Statute)
Illness of the Mind
Procedures

Professional Ethics and Issues of Boundaries

Elements of Consent and Competency Issues
Medication: Refusal of Restraints and Seclusion
Individuals' Legal Rights Are Educated Issues of Consent Boundary: Where the Lines Are Blurred
Practices of Prescription
Disciplinary Proceedings – Board of Health Professionals Investigation

Professional Legal Liabilities

Issues of Duty to Warn
Professional Obligations and Expectations
Fraud and Abuse Concerns
Errors in Billing and Coding
Documentation of Compliance with Conflicting Laws
Faculty
R.N., M.S., Attorney at Law Lois Fenner Seminars and items related to: 14

Lois Fenner, R.N., M.S., Attorney at Law, graduated with honors from the University of Maryland Graduate School of Nursing, Undergraduate School of Nursing, and Law School. She is a registered nurse, a certified clinical specialist, and an attorney admitted to practice before the United States Supreme Court.

Ms. Fenner is a founder member of The American Nurse Attorneys Association, the Monumental Bar Association's former president, a member of the Women's Bar Association, the Phi Kappa Phi and Sigma Theta Tau Honor Societies, and the National Exchange Club. She has received the Distinguished Women in Law Award from the Alliance of Black Women Attorneys, the Baltimore Marketing Association Harold Young Leadership Award, and the Baltimore County Diversity Award.

She has also been admitted into the Circle of Excellence and is a three-time recipient of the Daily Record's Top 100 Women in Maryland honor. Attorney Fenner has been named to the Baltimore Business Journal's Who's Who in Law and has been named a Super Lawyer twice. Her business is focused on medical litigation and health care concerns such as medical malpractice, personal injury, accreditation, wrongful death, Professional Board, and licensure.

Ms. Fenner is a nationally acclaimed educator and presenter who provides genuine and current knowledge in lively presentations.

Disclosures for Speakers:

Lois A. Fenner is a private practitioner. PESI, Inc. pays her a speaking honorarium.

Lois A. Fenner does not have any relevant non-financial relationships to declare.
---