Linda Backman – The Past Life Regression Training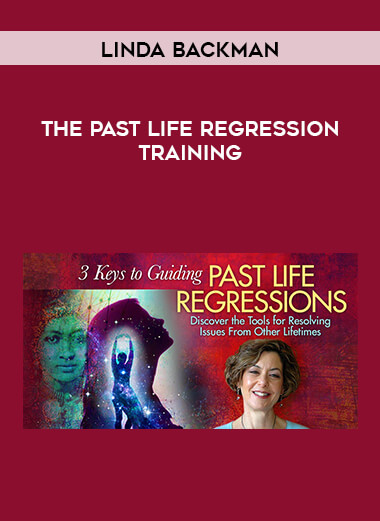 Salepage : Linda Backman – The Past Life Regression Training
Courses Content :
What You'll Learn in These Ten Modules
Dr. Backman will walk you through the core spiritual abilities and competencies you'll need to develop to assist others unearth crucial insights from their former lifetimes, highlighting what they need to face and repair to prosper in this lifetime in this 10-step transformative course.
Each session will build on the one before it, so you'll have a comprehensive holistic grasp of the techniques, tools, and concepts required to master this powerful hypnosis-based method.
A famous specialist in the subject will provide you with in-depth lectures, experiential intuitive deepening techniques, and step-by-step instructions for doing a previous life regression. Linda will also offer real-life case studies from her client work to help ground and build on the lessons. You'll also be provided weekly activities and journaling prompts to help you connect with your guides and shift current life difficulties.
Module 1: Accountability for Past Life Karma & Dharma
The Akashic Records are said to include information about our previous existence.
Akasha is a Sanskrit term that means "sky," "space," or "ether." These recordings are thought to be real but energy, living on a non-physical realm.
We frequently have more than one former life in which connected circumstances constrain our existence today – a cycle that repeats itself from one incarnation to the next, leading us to make incorrect assumptions about our skills or how others will treat us.
For example, you may have had a lifetime 1,500 years ago that is linked to your unquestioned, perplexing, or undermining ideas now. Perhaps your thought was far too "advanced" for others at the time, and in your current life, you may be afraid to be open about what is genuinely essential to you for fear of being shunned. Consider your current anxiety, which may be related to a past-life incident, for key insights.
In this first module, you'll learn how, while in trance, a client might use intuition to become aware of such former life occurrences and details.
You'll learn how to:
Recognize the signs of unresolved past-life problems.
Learn how a client's guides and higher Self decide which previous lives to expose.
Accept the veracity of past-life information revealed during a regression.
Connect a client's current life to past-life stuff that comes to light.
Experiential exercise: guided intuitive encounter to believe that we are always directed
Module 2: Regression Hypnotherapy for Past-Life Physical, Emotional, and Relationship Issues
Soul regression treatment employs hypnosis, which is akin to deep meditation, to assist and guide a client into trance, a calm, altered state of consciousness.
The frequency of our brain waves teaches us every day when we relax enough to fall asleep. We obtain access to our higher Self's soul wisdom while we are in these alpha and theta brain wave phases. Your higher Self has access to guides (in previous realms and incarnations) as well as a "library" of soul information that can aid in the progress of your soul.
Your left brain serves as the mental overseer during regression hypnotherapy, allowing you to grasp intuitive instructions from the spiritual realm. The key to achieving clarity and balance in this process is to use and trust both your right and left brain.
You'll:
Understand and normalize the hypnotherapy process.
Understand what "brain wave state" means in hypnosis.
Understand how previous life regression exposes true karma and dharma that must be resolved and welcomed in today's life.
Work on getting a nervous customer to relax.
Learn about the client advantages of past life regression.
Experiential: A guided intuitive encounter that allows past life information to emerge.
Module 3: Achieving a Higher Level of Consciousness Through Past Life Regression
Regression to a previous life Clients typically reveal a prior life pattern, such as being repeatedly abandoned by a parent, either physically or emotionally. Such people's soul DNA may still include karmic residue from their past, allowing them to cling to sentiments of victimhood.
If they can be led in releasing this bound-up hurt and fury, they will be able to let go of their emotional anguish and clear away this painful energy, allowing their soul's progress to fulfill its purposes this time.
You'll:
Induce a trance or altered state in a client.
Recognize the definitions of life plan and free will.
Recognize that the life disclosed during a regression session is chosen by the client's higher Self and guidance.
Learn how to utilize your voice and energy to help a client relax.
Understand classic themes and the challenges that arise as a result of them across a lifetime.
Experiential: An intuitive encounter guided by a guide to find a prior life topic.
Module 4: Getting the Client Ready to Find a Significant Past Life
It is just as necessary to interview and prepare a client for a former life regression as it is to execute the regression itself. A few pointed inquiries from the client might help their guides determine which former life to share. Examples of such queries include: Is there a present life relationship that may be related to a previous lifetime? Is it possible that a former life incident is generating a current life dread or physical symptom?
Soul regression can reveal the underlying reason of a physical or emotional health issue. By fusing our everlasting Soul Memory Code with this lifetime's body and intellect, we activate our life blueprint, allowing our soul — and that of mankind — to progress.
In this manner, when we release past-life trauma and care for our mind, body, and spirit in the ways that are best for us, we honor the essence of "all that is."
You'll learn how to:
Conduct a client interview prior to the regression session.
Prepare the client and the surrounding environment for a previous life regression.
Assist a client in asking crucial questions about the approaching previous life revelation.
Assist a client in preparing to release previous life conditions in this life. Assist a client in recognizing that their guide's goal is good.
Experiential: A guided intuitive encounter in which you chat with a guide about your aims and questions for a regression.
Module 5: Guided Intuitive Discovery Using a Past Life Hypnotic Induction
Past life regression is a very effective method. It is the use of specialized breathing techniques, guided imagery, and other noninvasive procedures by a skilled practitioner to assist a client into a natural state of relaxation, or trance hypnosis, conducive to accessing information beyond that which can be accessed in our normal waking state.
The regression therapist employs a specific hypnotic induction to aid a client's reveal of a former life that can explain current-day events. Understanding the method of former life regression as well as a certain set of abilities is required for a practitioner to be successful. Such abilities include guiding a client through a previous lifetime, scene by scene, and finding circumstances surrounding the death scene.
You'll learn how to:
Conduct a past-life hypnotic induction.
Establish a client's initial past-life scenario.
Assist a client in relaxing and deepening their regression process.
Assist a client in enabling previous life stuff to come to light.
Assist a customer in comprehending the significance of the death scene.
Experiential: A guided intuitive encounter in which participants learn about their karmic or dharmic previous lives.
Module 6: Discovering Past Life Revelations on Earth and Beyond
Past lives may have an impact on our current lives in every way conceivable – physically, emotionally, and behaviorally.
Regression into past-life memories "lifts the veil" on certain significant scenes and experiences that we have lived in various times and locations, allowing us to release emotions, ideas, awarenesses, and energy obstacles that they may have produced.
Regression hypnotherapy is a precise and effective method for accessing and comprehending your fundamental Self. It can provide a unique perspective on a wide range of difficulties and life conditions, including death anxiety, health challenges, emotions, phobias, professional choices, geographic place of habitation, relationships, and interplanetary connections (lifetimes spent in realms other than Earth).
You'll learn how to:
In a previous life, guide a customer forward and backward.
Prepare a client to relate a former life to current life events.
Assist a client in determining whether they have had an extraterrestrial existence. Assist a client in preparing to release previous life situations in their current life.
Assist a client in realizing that when a loved one dies, their spirit energy lives on.
Experiential: A guided intuitive encounter in which you converse with a guide about life on Earth and elsewhere.
Module 7: Attaching to or Detaching from Past Life Experiences
Resolving experiences from previous incarnations frequently requires "attaching to" and accepting difficult former events like as the death of a child, the termination of a love connection, the anguish of loneliness, and more.
Attachment occurs when we recall a former life experience that resulted in distress. Once we have attached, it is critical that we liberate ourselves from the anguish that has bound us.
Maintaining a healthy emotional and physical distance from an incident or circumstance is referred to as detachment. It is in the liberation, in the detachment, that we begin to see that everything has significance and is there to bring us ever higher up the ladder of our particular soul progress and that of mankind.
You'll learn how to:
Assist a client in attaching to difficult past-life events.
Prepare a client to disengage from painful prior experiences.
Assist a client in deciding when to connect to dharmic past-life data.
Witnessing an in-class regression can help you facilitate a past-life session.
Assist a client in gaining access to the specifics of "the death scene"
Experiential: A guided intuitive encounter with a guide to discuss attachment and separation.
Module 8: Are Your Past Lives Like a Stormy Sea or a Calm Pond?
We've known embodiment as evolving souls for hundreds, if not thousands, of years. And everyone of our lives has a purpose.
Some incarnations, like the waves of a calm or stormy sea, are framed with pleasantry, via agreeable relationships, job, and health, including the quality of where and how we live, whilst others are "prickly," suited for swift and deep emotional and spiritual growth. Our lives of adversity mirror our actions, both as victims and as perpetrators.
Our present life specifics emerge through recollection, both our own and those of our family members. However, without understanding the "big picture" of our series of previous lifetimes, it's hard to truly realize why we must bear with what we've "been handed" this time around. We don't know why we have an alcoholic father or a child with a persistent condition, for example. We may be able to learn the causes of these difficulties through previous life regression. Our father's soul may have also been that of a servant-girl we tortured; our child may have been our child in a previous life, when we abandoned them to be reared by grandparents.
You will learn:
How to Guide a Client Through Past Life Regression
Ways to prepare a client for a previous life regression, such as explaining why their guide chose the past life they will examine.
That past, present, and future lives are not occurring concurrently, and why
How to assist a client in gaining access to the specifics of the death scene
Use your intuition to assess the influence of a former life on your current existence.
Experiential: A guided intuitive encounter in which you speak with a guide about why a certain former life was identified.
Module 9: Deepening and Extending a Client's Past Life Regression Experience
It is typically significant and life-changing to accompany a client through the revelation of particular linear and emotional elements of a prior life as chosen by spiritual guidance. Past life facilitation and treatment need a deft blend of technical skills and spiritual awareness.
Supporting and assisting a client through this process — which includes discovering their karma and dharma — is both a privilege and a severe obligation. You will discover specific and systematic "implements" for guiding a client through previous life insights in order to assist them in evolving their soul in this lifetime.
You will learn:
How to Help a Client Recognize Past-Life People in Their Present Lives
Methods for preparing the customer to communicate with their guide on a daily basis
An awareness of why today's living affects future lives
How to Assist a Client in Validating Past-Life Information
How to educate a client to utilize intuition to pursue their own discovery of past lifetimes
Experiential: Guided intuitive experience to accelerate soul expansion.
Module 10: Karma and Dharma Resolution for You and Your Clients
The "seam" of our continual soul progress is neatly woven as we "mend" our soul via reincarnation — through our knowledge, comprehension, and release of who we've been and what we've done. We progress as souls via continual balance and healing of what has come before.
This is an emotional and frequently difficult procedure. The agony of our sins, induced by their emergence, is felt when we expose the darkness of our history. In other words, during soul regression, we might get at the point of debriding our soul wound by delving into exactly what happened and with whom. Only then will we be able to avoid such actions in the future.
Though it is not necessary to know someone in your life now who was your victim in a previous life, the power of literal, genuine disclosure and atonement can help you (both) release old scars.
You will learn:
How to assist a client in comprehending "healing via reincarnation"
Methods for preparing a person to use their awareness of previous lifetimes in everyday life
That we have control over our own fate
How to Start Your Own Private Past-Life Regression Practice
Action measures to aid your own and others' soul growth
Experiential: A guided intuitive experience to assist you in incarnating today with purpose.