LaChelle Barnett – Trauma-Fueled Addiction: Stop the Suffering – End the Pain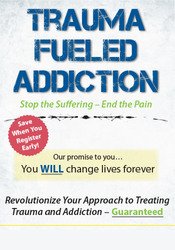 Salepage : LaChelle Barnett – Trauma-Fueled Addiction: Stop the Suffering – End the Pain
Courses Content :
Faculty:

LaChelle Barnett

Duration:

5 Hours 59 Minutes

Format:

Audio and Video

Copyright:

Jun 01, 2017
Description
Outline
Understanding Trauma and Addiction
Neuroscience and the Brain
Fight, Flight and Freeze Responses
Dopamine and Addiction
The Mind-Body Connection
Soothing the Brain's Amygdala
Relevant Trauma and Addiction Research
What Works in Treatment
Review of Effective Treatments
Toward a More Integrated Approach
Implement Evidence Based Practices
Identify Key Elements of Trauma and Treatment
Symptoms of PTSD
Negative Ways of Coping
Factors Affecting Reactions to Trauma
Screening Tools for PTSD
Make it Safer to Remember
Rational for Trauma Treatment
Create a Sense of Safety
Relaxation and Breathing Techniques
Progressive Muscle Relaxation
Guided Imagery
Mindfulness and Mediation
Therapeutic Relationship – How to Achieve Breakthroughs
Body Language and Tone of Voice
Nonjudgmental Style
The Radical Idea of Being Nice
The MI Style and Spirit
Your Style of Delivery Matters
Learn Effective Top Trauma Treatment Techniques
Past versus Present Approaches
Holistic Approaches
CBT Approaches
Integrated Approaches
Body-Orientated Therapies
Overview of Seeking Safety
Interventions and Techniques for the Toughest Clients
Intrusive Symptoms
Avoidant Thoughts and Behaviors
Negative Thoughts, Beliefs and Moods
Arousal and Reactivity Symptoms
Recovery and Resiliency Strategies
Effective Outpatient Addiction Strategies
Assess Severity of Use
Enhance Motivation to Change
Relapse Prevention Skills
Self-Help and Support Systems
Cope Without a Drink or Drug
Family Enabling Issues
Building Positive New Lifestyle
Medication Assisted Treatment
Integrated Treatments – Special Considerations for Women
Treatment Needs of Women
Co-occurring Disorders
Family Systems Approach
Women's Integrated Treatment Model
Special Take Away Tools Section – Your Training Continues
Summary and Conclusions
Handouts Included to Take Home and Use
Book References
Resources
Websites
Faculty
LaChelle Barnett, LCSW, LCAC Related seminars and products:
1
---
LaChelle Barnett, LCSW, LCAC, is the CEO of a nonprofit in South Bend, IN.  She is a psychotherapist at Oaklawn Psychiatric Center, specializing in working with clients who have both trauma and addiction issues.  She is a professor at Indiana University teaching groups classes to undergraduate students.  In addition, she works as a consultant speaking at various conferences and events on various clinical issues.
She earned her Masters Degree in Social Work from Indiana University and a Bachelor of Arts degree majoring in Sociology from the University of Dayton, additionally she is a licensed clinical social worker (LCSW) and licensed clinical addictions counselor (LCAC). She is currently pursuing her doctorate degree.
LaChelle has been trained in multiple treatment modalities including Eye Desensitization Reprocessing (EMDR), Moral Recognition Therapy (MRT), Emotionally Focused Therapy (EFT), Cognitive Behavioral Therapy (CBT) and Motivational Interviewing (MI).  In addition, she is trained in Batters Intervention Program (BIP).  She has years of experience working with mental health patients in the areas of both trauma and addiction.
---