Kevin Blake – Executive Dysfunction: Strategies for At Home and At School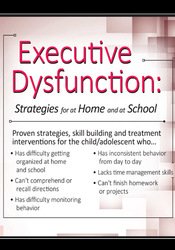 Salepage : Kevin Blake – Executive Dysfunction: Strategies for At Home and At School
Courses Content :
Kevin Blake is a professor.
6 hours and 40 minutes.
Audio and video formats are available.
01/03/2018 Copyright
Description

Proven techniques, skill development, and therapy treatments for children and adolescents who…

Has trouble staying organized at home and at school.
Directions are difficult to understand or recall.
Has trouble monitoring conduct
Has erratic conduct from day to day
Inadequate time management abilities
unable to do schoolwork or tasks

Executive function deficiencies in children and adolescents frequently cause difficulties with organization, prioritization, time and task management, self-regulation, and working memory. When you combine a diagnosis of ADHD, particular learning problem, autistic spectrum disorder, and their common co-morbidities, executive skills are severely affected, and these children are often at risk for academic underachievement and socialization/behavioral challenges.

Learn proven evidence-based techniques to help these children and adolescents achieve their full academic and social potential by watching this recording with Dr. Kevin Blake, an expert in executive functioning. You will learn how to tailor therapy to the child's developmental stage, as well as how to create classroom and home tactics that include increased reinforcement, harsher external consequences, and behavior modification. Memory, note-taking, time management, and organizational technology will be discussed. You will also gain confidence in teaching social interaction and social skills in the classroom. Never again will your child have a tantrum when transitioning from one activity to the next!

Handouts

Manual (1.02 MB)

Outline of 75 pages available after purchase
Executive Function Neurobiology

The Frontal Lobe and the Functions It Controls
Executive Function and Attention-Deficit/Hyperactivity Disorder (AD/HD): The Neurodevelopmental Path Throughout Life

The Association Between AD/HD Symptoms and Executive Function Difficulties
How AD/HD Neurobiology Contributes to Executive Function Difficulties
Evaluating Executive Function in AD/HD Patients Treating Executive Function Difficulties Caused by AD/HD Medication
Techniques for Behavioral and Cognitive Behavior
Technological Prosthetics at COGMED
Classroom Administration
Executive Function and Specific Learning Disorder Comorbidity with Sleep Disorders and Treatment (SLD)

Reading Impairment
Dyslexia
Neurobiological Distinctions that Can Cause Issues in:
Phonological Awareness and Memory in Rapid Automated Naming
Difficulties with Procedural Memory
Prosthetics Technology
Treatment: Multisensory Synthetic Phonics
Comorbidity with AD/HD, Sleep Disorders, and Treatment Understanding
Differences in Neurobiology that Can Make It Difficult to Read and Visualize What Is Being Read Treatment:
SQ4R\sMedication
Lindamood-Bell
COGMED
Speech and Language Pathology
Executive Function and Autism Spectrum Disorder Comorbidity with AD/HD and/or Dyslexia (ASD)

How Do ASD Symptoms Relate to Executive Function Difficulties?
How Autism Spectrum Disorder Neurobiology Relates to Executive Function Difficulties
Alexithymia, Neurobiology, and Emotional Working Comorbidity Memory
Relationship of the Medial Prefrontal Lobe and Mirror Neurons to AD/HD Hormones and Social Interaction Treatment Medication
COGMED Mirror Neuron Training Therapy and Service Dogs Strategies to Teach "Neurotypicals" Time Management and Personal Organization

Techniques for Time Management
Techniques for Personal Organization
What Benefits and Harms Working Memory Study Skills
Professionals Who can assist, and how should treatment be coordinated with them?
Faculty
Dr. Kevin Blake, P.L.C., ADHD-CCSP Seminars and goods related to this topic: 2

Kevin T. Blake, Ph.D., P.L.C., ADHD-CCSP, is a licensed psychologist and nationally renowned expert in ADHD, executive function, and learning problems. Dr. Blake was one of the first specialists in the United States to examine these disorders in adults, with over 20 years of specialized expertise. Dr. Blake currently travels the country training clinicians on the most recent evidence-based diagnostic and treatment recommendations for better clinical results.

He is currently in private practice and serves as a facilitator for a community adult ADHD support group. He also talks on the newest evidence-based diagnostic and treatment recommendations for improved clinical results around the country. Dr. Blake is a published author whose papers have appeared in Attention!, LDA Newsbriefs, and Perspectives (of the International Dyslexia Association). Dr. Blake was selected as a delegate to the National Institute for Literacy's "LEAD 2000 Congress" in 1991, where he served on a special committee advising the United States Congress on diagnostic and remedial difficulties affecting learning challenged individuals.

Dr. Blake belongs to the American Psychological Association, the International Dyslexia Association, the Children and Adults with Attention Deficit Disorders Association, and the Learning Disabilities Association. Dr. Blake's own experience overcoming dyslexia and hearing loss fuels his desire to educate both professional and general audiences on techniques to overcome the obstacles of ADHD and other learning impairments.

Dr. Blake's lectures are noted for weaving together empirical facts, pertinent information, and practical how-in to's an approachable and useful manner. Dr. Blake lives in Tucson, Arizona when he is not touring the country giving speeches.

Disclosures for Speakers:

Kevin Blake is a lawyer with a private practice. He owns shares of Johnson & Johnson, Inc. and Amgen, Inc. PESI, Inc. pays Dr. Blake a speaking fee.

Kevin Blake belongs to the Children and Adults with Attention Deficit Disorders (CHADD), the International Dyslexia Association, the Learning Disabilities Association, and the American Psychological Association.
---