Kathryn Seifert – Mass Violence: Risk Identification and Intervention Strategies for Potentially Violent Clients and Effective Treatment Techniques for Survivors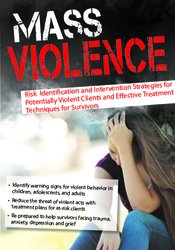 Salepage : Kathryn Seifert – Mass Violence: Risk Identification and Intervention Strategies for Potentially Violent Clients and Effective Treatment Techniques for Survivors
Courses Content :
Faculty:

Kathryn Seifert

Duration:

5 Hours 58 Minutes

Format:

Audio and Video

Copyright:

Oct 11, 2018
Description
Handouts
| | | | |
| --- | --- | --- | --- |
| | Manual – Mass Violence (5.60 MB) | 72 Pages | Available after Purchase |
Outline
Post-Traumatic Stress Disorder vs. Complex PTSD: Understand the Difference
Acute traumatic stress, PTSD, Complex PTSD
Diagnostic clarification and differential diagnosis
Key contributing factors of Complex PTSD
The common symptoms of Complex PTSD
The Neurobiology of PTSD: Beyond Fight and Flight
Polyvagal Theory
6 Stages of trauma response
Heart Rate Variability and the Social Nervous System
Interpersonal Neurobiology
Psychobiological regulation
Rupture and repair
Implications of childhood neglect or abuse
Neuroplasticity and Complex PTSD
Psychological and Physiological Repercussions of Complex PTSD: A Deeper Understanding for Accurate Assessment
Intrusive symptoms and anxiety
Emotional dysregulation: Outbursts of anger and debilitating shame
Avoidance symptoms and phobic reactions to traumatic material
Interpersonal problems and difficulty being close to others
Dissociation and dysregulation
Cognitive distortions and compromised meaning making
Physical health problems, ACE factors and painful somatization
Preverbal and nonverbal memories
Disturbing somatic sensations
Depressive symptoms
Learned helplessness and shame
Therapeutic Interventions for Complex PTSD: Summary of Effective Therapies
Psychodynamic and Relational Therapy
Psychobiological perspectives: Polyvagal Theory
Cognitive Behavioral Therapy (CBT)
Dialectical Behavioral Therapy (DBT)
EMDR Therapy
Somatic Psychology
Parts Work Therapy: Work with Ego States
Complementary and Alternative Medicine (CAM): mindfulness, yoga, and integrative healthcare
Integrative Treatment for Complex PTSD: Putting it All Together for an Effective Treatment Plan
A biopsychosocial approach: Partner with clients to build a health care team
Goal of treatment: Memory retrieval vs. trauma recovery
History taking: Identify chronic, repeated, and/or developmental trauma events
Cultural factors and Complex PTSD
Recognize attachment Injuries
How to work with transgenerational trauma
Identify parts, ego states and defenses
Assess for dissociation
Mutual regulation and relational repair in therapy
Prepare for trauma processing: Develop resources and stability
Work through traumatic memories: EMDR and Somatic Psychology
Grief work in Complex PTSD
Integrate and Instill positive change
Experiential Interventions: Mind-Body Practices for Clients with Complex PTSD
Conscious breathing for self-regulation
Grounding and sensory awareness
Containment: Reclaim choice and control
Build imaginal allies
Cultivate mindfulness, acceptance, and self-compassion
Somatic interventions: Titration, sequencing, and somatic re-patterning
Bilateral stimulation and dual attention in EMDR Therapy
Potential risks and limitations of mind-body therapies
Fostering Resilience: For Post-Traumatic Growth and Healing
Learn the 6 Pillars of Resilience
Trauma recovery and the bell curve
Resilience as a process and an outcome
Help clients move from learned helplessness to learned optimism
Post-Traumatic Growth: Help clients reach their potential
Vicarious Trauma: Improve Client Outcomes Through Effective Self-Care
Identify resources that improve your clinical skills
In-session self-care to improve focus on the client and therapeutic process
Burnout prevention techniques
Faculty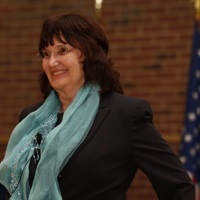 CEO and Founder
CARE2, LLC
---
Kathryn Seifert, Ph.D, is a psychologist in Maryland and one of the leading experts in the fields of multi-victim violence, bullying, trauma and mental health related violence in the United States. Dr. Seifert specializes in the assessment and treatment of individuals who are at risk for violence and those who are emotionally disturbed, behaviorally disordered, victimized, delinquent, and/or are suffering from attachment disorders.
Dr. Seifert has appeared on CNN, Discovery ID, and Fox News and consults with numerous public agencies. She testifies in courts as an expert on the maltreatment of children and has a blog, Stop the Cycle, on Psychologytoday.com with over a half a million readers.
Dr. Seifert has written two books, How Children Become Violent (Acanthus, 2006) and Youth Violence: Theory, Prevention, and Intervention (Springer, 2015). In these two books, she wrote about the groundbreaking research such as the ACE's research out of the CDC, connecting child maltreatment, delays in the developmental of coping skills, and youthful violent behaviors. Dr. Seifert also developed the CARE-2, Child and Adolescent Risk/Needs Evaluation.
Speaker Disclosure:
Financial: Kathryn Seifert is the Chief Executive Officer and Founder of Eastern Shore Psychological Services; and CARE-2, LLC. She receives royalties as an author of Acanthus Publishing and Springer Publishing. Dr. Seifert receives a speaking honorarium from PESI, Inc.
Non-financial: Kathryn Seifert is a member of the American Psychological Association; and the Maryland Psychological Association. She writes a blog, Stop the Cycle, on Psychologytoday.com.
---