Katelyn Baxter-Musser – 3-Day: Dialectical Behavior Therapy Certification Training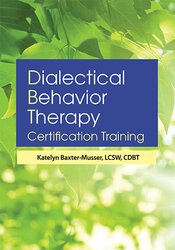 Salepage : Katelyn Baxter-Musser – 3-Day: Dialectical Behavior Therapy Certification Training
Courses Content :
Faculty:
Baxter-Musser, Katelyn
Duration:
22 minutes and 20 hours
Format:
Video and audio
Copyright:
Jan 22, 2020
Description

Dialectical Behavior Therapy (DBT) is a strong, evidence-based treatment that enables practitioners to achieve excellent results for clients of all ages who are suffering from stress, depression, trauma, suicidal and self-destructive behaviors, and a range of other clinical manifestations.

This three-day Certification Training will provide you with the key abilities you need to incorporate DBT into your therapeutic practice and apply it effectively with a wide range of client types. This 21-hour recording will provide you with a road map for treating patients utilizing DBT skills and procedures, allowing you to help your most difficult clients reach new levels of recovery.

Even if you've had previous Dialectical Behavior Therapy (DBT) training, this program will improve your clinical sophistication and skill with DBT while dealing with adults, kids, drug users, and trauma survivors in a range of contexts.

Best of all, this program fulfills the educational criteria for Evergreen Certifications' Certified in Dialectical Behavior Therapy (C-DBT). Certification shows coworkers, employers, and clients that you've put in the extra time and effort to grasp the nuances of employing DBT in therapy. Professional and clinical expertise are required. To begin, go to www.evergreencertifications.com/cdbt.

Purchase today and gain the knowledge and confidence you need to successfully serve your clients with DBT!

Marsha M. Linehan, PhD, ABPP, and her organizations are not linked or related with PESI, Evergreen Certification Institute, or Katelyn Baxter-Musser, LCSW.

Handouts

Dialectical Behavior Therapy Certification Training Manual (30 MB) 195 Pages Available Upon Purchase

Dialectical Behavior Therapy Certification Training Handout Packet (5.4 MB) 30 Pages Available After Purchase
Outline

DBT Foundations

Theory of Biosocial Interaction
DBT Characteristics
DBT as an empirically supported practice
Dialectics: the tension between acceptance and transformation

DBT in Clinical Practice

DBT use in individual and group treatment settings
Methods of skill development
Validation methods
Limitations of research

DBT Skill Development

Mindfulness: Develop the Skills Required for Successful DBT Therapy

Acceptance vs. condemnation
Wise mind – find balance between emotion and logic
Simple activities for developing mindfulness abilities
Keep your clients calm, concentrated, and alert.
Overcome misconceptions by describing
Participation entails letting go of judgment and fear.
Mindfulness-based teaching strategies and therapeutic exercises

Interpersonal Effectiveness: The Ability to Improve Relationships and Lives

Tools for determining strengths
Relationships and self-respect must be balanced.
Exercises and role-playing instructions on how to:
Improve your assertiveness abilities.
Improve your dispute resolution abilities.
Develop empathy
Prevent the accumulation of issues
Defy pressure
Top Behavior Modification Techniques

Emotion Regulation: Practical Techniques for Better Emotions and Resilience

Strong emotions and inadequate coping abilities
How to Change Negative Emotions
Reduce emotional vulnerability through engaging in self-care.
To lessen maladaptive behavior, use opposing action skills.
Exercising Emotion Regulation
Self-soothing techniques that work
Discover the sleep hygiene routine.

Distress Tolerance: The Ability to Cope with Painful Experiences and Survive a Crisis

Practicing crisis survival and truth acceptance
4 approaches to issue resolution
Case studies for problem solving
Making judgments by weighing pros and disadvantages
STOP skills for crisis management
The Procedure for Practicing Radical Acceptance
Acceptance of Change Tools

DBT in Clinical Settings

Behavior analysis; chain analysis; and missing link analysis
Client diary cards and assignments
Determine therapy-interfering behaviors.
Learn how to recognize and treat suicidal and self-harming behaviors.

Assessment and Intervention for Self-Harm and Suicidal Crisis

Tools for screening and assessing self-harming behaviors
Considerations for interventions and therapy for the self-harming population
Suicide risk as an issue of skill deficit
Tools and approaches for determining the amount of risk
Plans for firearms, drugs, and lethal-means restrictions that work
Plans for safety and crisis intervention

DBT should be modified for different populations.

Adolescents and children
Survivors of trauma
Addicts of narcotics

The Therapist and Consultation Group in DBT

3 methods for reducing therapist burnout
The features of a successful DBT team
Including DBT in your practice
Faculty
LCSW, CDBT Katelyn Baxter-Musser Related seminars and products: 3

Katelyn Baxter-Musser, LCSW, CDBT, is a Maine-based Licensed Clinical Social Worker specializing in domestic violence, abuse, trauma, PTSD, depression, anxiety, grieving, and relationship concerns.

Her professional expertise includes working with multiple organizations and Native American reservations for ten years in various roles as a case manager, child and family therapist, and trauma therapist. Ms. Baxter-Musser worked as the clinical coordinator for trauma healing services at La Frontera Arizona, a non-profit organization dedicated to providing behavioral health counseling, crisis intervention, and support to families and individuals dealing with domestic violence, abuse, hate crimes, and other issues.

Ms. Baxter-Musser is certified in Dialectical Behavioral Therapy, Cognitive Behavioral Therapy, and EMDR. She is a member of the American Association of Experts in Traumatic Stress, the National Center for Crisis Management, and the Maine Collaborative Law Alliance. She is the regional coordinator for the EMDRIA Southern Maine Regional Network and serves on the EMDRIA Standards and Training Committee.

Disclosures for Speakers:

Katelyn Baxter-Musser is a lawyer with a private practice. PESI, Inc. pays her a speaking honorarium.

Katelyn Baxter-Musser is a non-financial member of the National Association of Social Workers.
---