John Perkins – Shapeshifting Your Reality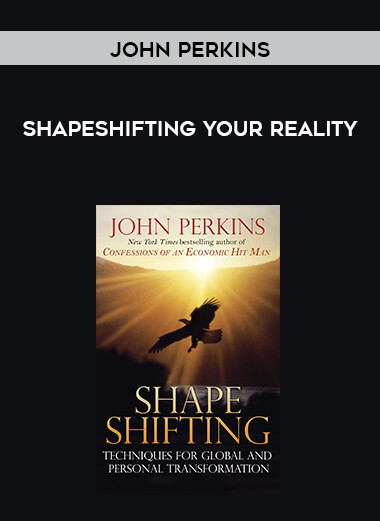 Salepage : John Perkins – Shapeshifting Your Reality
Courses Content :
What You'll Learn in These 7 Modules
John will take you through the core spiritual skills and competencies you'll need to co-create a more aware, abundant, and sustainable world for all in this 7-part transformative intensive. You will have access to the ancient wisdom that shamans and healers from all over the world have created over millennia in order to strengthen themselves and their communities.
Each teaching session will flow smoothly into the next, giving you a comprehensive grasp of the techniques, skills, and ideas you'll need to transform your reality and shift our planet.
Module 1: Shapeshifting Fundamentals
John will offer dramatic personal experiences from throughout the world, spanning from deep in the Amazon to high in the Himalayas, in this large picture review of the history of shamanism and how techniques like shapeshifting operate.
This module will teach you:
Learn about the historical context and backdrop of shapeshifting by relying on indigenous wisdom from many civilizations.
Learn the fundamentals of shamanic initiation and ceremonial activities.
Explore the connections between perceived and objective reality.
Begin your trip into your Divine Self – a shamanic voyage into the universal light that spans time and space, unites us all, and reveals our inner divinity.
Learn about the "story behind the narrative" of the Death Economy, including how the EHM system moved from underdeveloped nations to the United States, Europe, and the rest of the globe — and how shapeshifting provides a way to modify it.
Deepen your understanding of your life's mission and holy purpose.
Learn about rites of passage and how to make your own.
"The Shapeshifter's Light," a featured experiential journey from the Maya of Central America, promises to connect you to universal energy as well as your own profound divinity and higher self.
Module 2: Thriving in a Revolutionary Period
We are living in the most revolutionary epoch in history. It is a consciousness revolution, greater than the agricultural or industrial revolutions, a time for us to awaken to our true potentials as human beings, free ourselves from unconscious stories of lack and limitation, and release the false values, loves, hopes, and expectations that have kept us stuck in dysfunctional patterns.
This module will teach you:
Understand the current global cross-cultural awakening and its ramifications for us as a species.
View the world's transformation through the prism of shamanic wisdom from Asia, Europe, the Middle East, and Latin America — and comprehend the shapeshifting process that is taking place in those regions.
Investigate the ramifications and allure of the growing Life Economy.
Determine a specific organization, institution, or event that you want to see altered — and that you will work to change in future sessions using your newly acquired abilities.
Receive wisdom lessons based on unique indigenous predictions concerning the times we live in, such as "The Eagle and the Condor," an old Amazonian prophesy.
Improve your grasp of your position in this worldwide transition.
Deepen your journey into your Divine Self in order to fulfill the greater goal you've established for this life and make the most of it.
Recognize the global fellowship that is accessible to you. You are not by yourself!
"The Divine Self Journey," a unique combination of Christian, Muslim, Hindu, and Buddhist practices, is the featured experiential journey.
Module 3: The Union of Personal and Global Transformation
Shamans have long taught that the personal and collective are inextricably linked. Western civilizations have recently stressed the personal, often at the price of the community. We will look at what it means to merge the two and reinvent your own relationship with our planet in this session.
This module will teach you:
Rewire your perspective of the individual-community relationship by seeing the wider goal of contribution.
Consider how the pain of everyone in the community is a reflection of your bigger self.
Increase the depth and effectiveness of your involvement in your local community.
Investigate the organization, institution, or event you wish to see transformed — and find the perceived realities and change levers.
Understand indigenous prophesies on a deeper level and how we might bring them to fruition.
Weave your personal desire into a communal dream… and then into a greater global dream.
Featured Experiential Voyage: "Shakaim weds Nunqui" — adapted from the Amazon's Shuar and Achuar, the male Spirit of the Forests joins forces with the female Spirit of the Earth on a journey into the universe — a journey that leads to higher insight.
Module 4: Defining the Mission, Higher Purpose, and Goals
Shamans teach that we are born at this historical epoch for certain purposes and aims that are required right now. We are also given the enthusiasm and abilities needed to complete our assignments and achieve our objectives.
This module will teach you:
Connect your Divine Self to your physical acts in a way that supports your greater purpose, mission, and aspirations.
Recognize the bigger lessons that your life curriculum has taught you, especially the upsetting or unpleasant situations.
Examine the teachings of observed realities that are no longer useful to you.
Learn how to recognize your dream as your purpose, as well as how to relate your goal to the common mission.
Determine the most critical sub-missions that are part of your overall mission.
Use the power of your emotions and passions to propel you toward your objectives.
Investigate the impediments to transforming the organization, institution, or event that you mentioned in prior sessions.
Change the way you create objectives from the standpoint of shapeshifting by adopting shamanic techniques to achieve them.
Experiential Journey Featured: "Journey to Pachamama," an ancient Quechua Andean technique that immerses you in the loving spirit of Mother Earth, Mother Universe, and Mother Time.
Unwrapping Your Veils, Module 5: "Hitting the Wall"
Parents, schools, religious leaders, politicians, and the media have all told us that we MUST look a particular way, act a certain way, study this or that topic, be a cog in the Death Economy engine, and so on. Many of these edicts you have unconsciously accepted, yet they are not the actual you, the divine you. Now is the moment to break down those walls and remove the veils that have kept the true self hidden.
This module will teach you:
Be taken through time-tested shamanic journeys to explore and comprehend your own blockages.
Illuminate the road that will lead you to greater levels of consciousness.
Understand "hitting the wall" from a shamanic perspective… and be empowered to break through it.
Make a deep connection with your inner self and let the outer onion layers to dissolve.
Investigate the Death Economy's hidden hurdles.
Use shapeshifting activities to engage with your inner walls and barriers in a new way.
Create a strategy for reshaping the previously selected organization, institution, or event.
Experiential Journey of the Week: "Unwrapping the Veil," a contemporary take on an old Persian tradition.
Module 6: Breaking Down Barriers and Lifting Veils
When you break through after "hitting the wall," you shapeshift old habits, attitudes, and mindsets, so changing your perception of reality. By removing internal obstacles and removing veils, you may achieve new degrees of awareness and presence in your everyday life, so modifying objective reality.
This module will teach you:
Learn how to unwind the veils on a fundamental level.
Learn about energy transformation from a shamanic perspective, which can help you open to more of what you want.
Participate in shamanic rituals to remove the blocks and veils, transforming "negative" energy into "positive" energy that will allow you to realize your purpose and achieve your objectives.
Feel a connection with your Divine Self that is free of outdated notions, biases, and dysfunctional habits that have kept you back.
You will be given shamanic rituals for modifying reality that you might use in the future to release feelings of unworthiness, neediness, and unlovability.
Create a detailed strategy for transforming the Death Economy into a Life Economy.
Dissolve addictive tendencies associated with alcohol, cigarettes, sex, and other substances.
Organize efforts to remove the veils that envelop the organization, institution, or event that you want to shapeshift.
Experiential Journey Featured: "Dismembering and Remembering," an initiation rite based on a process used in the Asian Steppes and other shamanic traditions.
Module 7: Transforming Yourself and Our World
How can you incorporate the shamanic process of shapeshifting into your daily life and move forward? How do you keep the momentum of this course going? These inquiries will be addressed here. You'll leave with methods you may do on a regular basis to stay in deep harmony with your new Dream, highest purpose, and new reality.
This module will teach you:
Imagine and plan out the everyday tasks that will allow you to continue the shapeshifting processes you learnt in earlier sessions.
Investigate superconscious worlds that will assist you in integrating what you've learnt and empowering your resolve to shapeshift your chosen organization, institution, or event.
Hone the abilities that allow you to feel, love, and honor your divine connection, as well as channel the energy of the cosmos into your greater purpose.
You will be taught shamanic techniques for integration and everyday completeness, as well as other practical daily skills.
Utilize your deepest delight to drive your continuous adventure.
Experiential Journeys Featured:
The Tibetan Star is a Himalayan technique that integrates your whole body, emotions, thoughts, and heart into the fulfillment of your objective. This is an approach that has helped individuals all across the world achieve success!
The daily path to ensure that you feel your power and enjoyment — and advance your greater mission — every day.