Jerome Quellier – Predicting Patient Behavior by Brain Lesion Site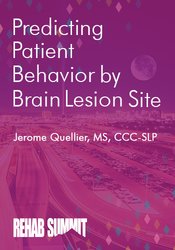 Salepage : Jerome Quellier – Predicting Patient Behavior by Brain Lesion Site
Courses Content :
Jerome Quellier, Professor
1 hour and 57 minutes in length
Audio and video formats are available.
Date: July 27, 2018
Description

As patients survive more complicated head injuries, stroke, and encephalopathies, practitioners with sophisticated knowledge of the underlying anatomical systems that control behavior are in high demand. Understanding the roles of the frontal lobes, hippocampus, bilateral temporal lobe differences, and the optic system can help the clinician not only forecast a patient's cognitive failure, but also guide examination and treatments. This video is intended to provide a fast overview of general brain architecture as well as the physiological mechanisms that underlie self-regulation, executive functions, visual perception, and memory.

Handouts

Outline Manual – Predicting Patient Behavior (4.35 MB) Available After Purchase

Brain Lobes Major

Influence of location function on behavior and decision making

Memory Neurophysiology

The hippocampus and the amygdala's anatomy and physiology
The memory paradigm
Fear and fury have an impact on new learning and memory.

The Impact of Traumatic and Non-Traumatic Injury on Cognitive Centers

Axonal damage that is widespread
Nerve healing is a physiological process.
Events that are ischemic versus hemorrhagic
Rancho Los Amigos levels in the middle to upper ranges and related clinical behaviors

The Optic System and Lesions Locations that Influence Therapy Engagement and Accuracy

Describe the optical system.
Patient visual perception dysfunction as it pertains to treatment involvement
Simple environmental changes to improve patient performance Case Study Jerome Quellier, MS, CCC-SLP Seminars and items related to: 6

Jerome Quellier, MS, CCC-SLP, is a traumatic brain injury and communication disorders clinical expert in a 450+ bed Level 1 Trauma hospital in Saint Paul, Minnesota, with almost 25 years of acute, residential, and outpatient rehabilitation experience. During his time at the hospital, he has concentrated on neuro-based dysphagia diagnoses and treatments, cognitive-linguistic impairments, head and neck cancer management, patient advocacy, and curriculum creation. Mr. Quellier has spent his career studying the complexities of neurology. He has completed advanced training in brain dissection at Marquette University, is actively involved in staff development training, and has recently joined a surgery team in preserving language function during tumor resections.

In addition to his clinical practice, he has previously taught doctoral level coursework at the University of Minnesota Duluth and undergraduate seminars as adjunct faculty at the University of Wisconsin Eau Claire. After working with the interdisciplinary team's issues in understanding the "what and why" of traumatic brain injury, stroke, neurodegenerative illnesses, and tumor resections as they pertain to behavioral changes, Mr. Quellier is thrilled to bring this topic to the forefront. Cum Laude received his bachelor's and master's degrees from the University of Wisconsin Eau Claire.

Disclosures for Speakers:

Jerome Quellier has a financial relationship with Regions Hospital. PESI, Inc. pays him a speaking honorarium.

Jerome Quellier is a non-financial member of the American Speech-Language-Hearing Association.
---