Jeff Peterson – Certified Anger Management Treatment Professional: 2-Day Certification Course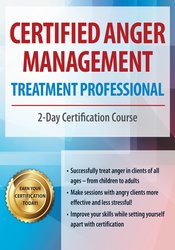 Salepage : Jeff Peterson – Certified Anger Management Treatment Professional: 2-Day Certification Course
Courses Content :
Faculty:

Jeff Peterson

Duration:

11 Hours 50 Minutes

Format:

Audio and Video

Copyright:

Jun 06, 2019
Description
Handouts
| | | | |
| --- | --- | --- | --- |
| | Manual – Certified Anger Management Treatment Professional (34.7 MB) | 187 Pages | Available after Purchase |
| | Certified Anger Management Treatment Professional – Slides 2 Per Page (69.3 MB) | 448 Pages | Available after Purchase |
| | Anger Worksheets (3.4 MB) | 25 Pages | Available after Purchase |
Outline
The Neuroscience of the Angry Brain
Anger systems in the brain
The fight-flight-freeze response of anger
Connections between the frontal and temporoparietal region
How breathing affects the survival brain
Why fighting/hiding anger doesn't work
Anger and Co-Occurring Disorders: Trauma, Addiction, Depression and More
The relationship between anger and addiction
Intermittent Explosive Disorder
ODD
Bipolar Disorder
When anxiety presents as anger
The role of anger in depression
Anger after trauma
Shame, Fear, Guilt and the Underlying Causes of Anger
Avoidance, shame, fear and guilt
The connection between anger and grief
The cycle of anger
How anger styles inform your clinical approach

Masked anger
Explosive anger
Chronic anger
Passive aggressive
The Intersection of Anger and Abuse
Assessment of violence potential
Is domestic abuse an anger management problem?
Controlling others
Case Conceptualization and Treatment Planning
Create a safe therapeutic environment
Build emotional vocabulary
Establish short-term and long-term goals
Strategies for working with groups
Teach Clients to Identify Anger Triggers
How to use anger logs with clients
Monitoring physiological sensations of anger
Identify words and actions that escalate
Practical goals and commitment to change
Assessing for client strengths
Mindfulness and Relaxation Techniques To Derail Anger in the Moment
Reset anger with breath work
Progressive muscle relaxation techniques to maintain control
Mindful anger techniques and choice awareness
Guided imagery to put clients in charge of anger
The Lifesaver Technique
Cognitive Approaches to Challenge the Dysfunctional Thoughts Behind Anger
CBT exercises to reduce negative self-talk
Cognitive restructuring and defusion from judgmental thoughts
Problem-solving and hypothetical situation training
Creative thought stopping tools for emotional regulation
Distraction and disengagement strategies
Therapeutic Strategies to Release Old Anger and Lingering Resentments
Anger and identity
The cost of avoidance
Why forgiveness (and self-forgiveness) is never easy
Prerequisites to letting go of the past
Conduct a cost-benefit analysis intervention
Forgiveness interventions to "turn off" resentment
Teach Clients to Constructively Communicate Anger
Assertiveness training techniques
Communicate anger effectively with "I" statements
The active role of acceptance
Mindfully respond to anger in interpersonal relationships
Defuse anger with humor and other conflict resolution strategies
Anger Management Strategies for Kids and Adolescents
How anger escalates in kids
Normalizing anger as a healthy emotion
Communication skills to alleviate frustration
Coping skills for stress and anxiety
Feelings thermometer – connect feelings to coping skills
Anger Management for Relationships
When mundane resentments spiral out of control
Interventions to overcome the blame habit
Teach clients active listening skills
Strategies to build emotional intelligence in couples
Risks and Limitations of Anger Management Therapy
Faculty
Jeff Peterson, PhD, LCPC, LPC, NCC, PCC Related seminars and products:
2
---
Dr. Jeff Peterson, PhD, LCPC, LPC, NCC, PCC is a nationally certified counselor and licensed professional counselor who is a faculty member in the clinical counseling program at Northwestern University in Chicago. He also maintains a private practice where he focuses on anger issues, managing stress, couples therapy, anxiety and depression, dealing with shame and addiction, and sexual or gender identity issues.
Dr. Peterson serves on the editorial review board for the American Counseling Association and has lectured to mental health professionals throughout the country on how to avoid Microaggressions in a clinical setting, ethical concerns in therapy, and the psychological effects of shame.
He is the co-founder and organizer of the Healthcare Guild (healthcareguild.com), a national non-profit organization dedicated to helping sexual and gender minorities find affirming and culturally competent health care. Dr. Peterson is a graduate of the University of Iowa and Walden University, with a Ph.D. in clinical mental health counseling education and supervision.
Speaker Disclosure:
Financial: Dr. Jeff Peterson maintains a private practice. He is a faculty member at Northwestern University. Dr. Peterson receives a speaking honorarium from PESI, Inc.
Non-financial: Dr. Jeff Peterson is a member of the National Board of Certified Counselors, American Psychological Association, and American Counseling Association
---