Jay Berk – Classroom Management for Mental Health and Behavioral Issues: Surefire Solutions to Help Students with Autism, ODD, ADHD and Other Challenges Thrive at School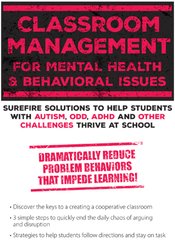 Salepage : Jay Berk – Classroom Management for Mental Health and Behavioral Issues: Surefire Solutions to Help Students with Autism, ODD, ADHD and Other Challenges Thrive at School
Courses Content :
Faculty:

Jay Berk

Duration:

6 Hours 4 Minutes

Format:

Audio and Video

Copyright:

Jan 29, 2019
Description
Outline
Work with the Whole Child: Initial Considerations for Mental Health and Behavioral Issues at School
Why school staff needs to know about mental health
Frequently overlooked mental health and learning disabilities
What you need to know about medications … and why
Push-in vs. pull-out approaches
Decrease Impulsive Behaviors at School
Recommended for: ADHD, ASD
Tips for teaching self-control
How to front-end load consequences
Meet sensory needs to promote self-regulation
Movement-based solutions
Build Underdeveloped Social Skills: The Key to Classroom Management
Recommended for: ASD, anxiety, depression
Practical strategies to cultivate social skills growth
Problem solving activities and scenarios
Implementing effective push-in approaches
Creative strategies for fostering connection
Technology and social skills – texting over talking?
Increase Flexible Thinking and Reduce Anxiety
Recommended for: ASD, anxiety, rigidity, OCD
Make transitions manageable
Change patterns of rigid thinking
Coping skills to deal with anger and anxiety
How to respond to shut-down behavior
Replacement behaviors
Help Students Follow Directions and Stay on Task
Recommended for: ADHD, ODD
Motivate students to stay on task with timers
"Must-do" lists to promote prioritization
Increase attention span with focus games
Redirection strategies that get them back on task
Handle Disruptive, Argumentative and Defiant Students
Recommended for: ODD and conduct disorder
What adults should never say but usually do
3 simple steps to end in-class arguing
Give the perception of control with choice
Build self-regulation skills
School refusal strategies
Stop Electronic Addiction for Hijacking Your Classroom
Are my students addicted to technology?
The myth of multi-tasking
End in class texting
Electronic bullying
Faculty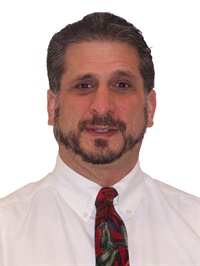 ---
Jay Berk, Ph.D., is a licensed clinical psychologist and an internationally recognized expert in the child/adolescent behavioral field who brings both a clinical and education perspective to his work with children, adolescents and their families. For over 25 years, Dr. Berk has been treating clients with ODD, ADHD, autism, anxiety and stress, depression, learning disabilities, Tourette's Syndrome and individuals who have multiple impairments. He conducts 15 social skills/mental health groups for children and adolescents and works daily with school and community professionals, families and parents. Dr. Berk continually consults for several school districts. In his private practice, in Beachwood, Ohio, he provides therapy for children, adolescents, families, testing and evaluation, school consultation as well as an alternative educational program.
Dr. Berk presents nationally on the topics of autism, disruptive behavior disorders, mental health issues in the classroom, ODD and social skills competency. In his workshops, he teaches professionals who work with children and adolescents, practical treatment and intervention strategies. He has been invited to present at hundreds of schools and conferences including being a repeated consultant to the Department of Education in Hawaii. As a past consultant to the United Nations, Dr. Berk authored a manual for UNICEF that was used by teachers working with children throughout Bosnia during the war. He has also worked in London, England with defiant teenagers; Kristiansand, Norway with traumatized youth; and the American Red Cross with trauma response.
Speaker Disclosures:
Financial: Dr. Jay Berk maintains a private practice. He receives a speaking honorarium from PESI, Inc.
Non-financial: Dr. Jay Berk is a member of the American Psychological Association.
---