Jane Yakel – Innovations in Dementia Rehab: A Multidisciplinary Guide to Staging & Interventions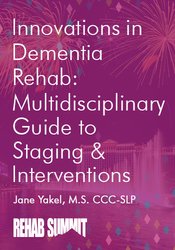 Salepage : Jane Yakel – Innovations in Dementia Rehab: A Multidisciplinary Guide to Staging & Interventions
Courses Content :
Jane Yakel is a professor.
1 hour 54 minutes in length
Audio and video formats are available.
Date: July 28, 2018
Description

In this audio, you'll learn about the best dementia therapies and goal-setting tactics utilized by expert physicians. Learn how to accurately stage a patient's dementia to ensure safety and reasonable expectations by walking through a differential diagnosis of all degenerative neurological illnesses. Use tried-and-true communication tactics for each stage of dementia to assist avoid social retreat by alleviating emotions of anguish and helplessness.

Step-by-step instructions with live examples will give you the confidence and abilities to achieve functional objectives with patients of all levels, as well as document functional outcomes and explain the need for goals.

Handouts

Outline Manual – Innovations in Dementia Rehab (1.47 MB) Available After Purchase

Correctly Classify Dementia Patients Using the Seven Clinical Stages of Dementia

Clinical designation
Stage clinical indications and symptoms
Each stage's mental age
Each stage's treatment/intervention

Incorporate Proven Interventions

Techniques for learning without errors
Timed retrieval
Montessori-based dementia care
Ability-based approach to reminiscence therapy
Written objectives
Study of cases
Faculty
Ms. Jane Yakel, CCC-SLP Seminars and items that are related: 6
American Speech-Language-Hearing Association Speech-Language Pathologist

Jane Yakel, M.S. CCC-SLP, is a certified and licensed (VA #2202005215) Speech-Language Pathologist with over 40 years of expertise caring for people with neuropathology diseases. Jane is presently a private contractor and consultant in Virginia, where she has worked in acute care, outpatient clinics, home health agencies, skilled nursing homes, independent and assisted living facilities, hospitals, and schools. She has taught at Wyoming University, Utah State University, and DeVry University (Phoenix). She has worked as a regional clinical expert, a national trainer for rehabilitation program directors, and as the director of a traumatic brain injury community re-entry program. She has shared her knowledge as an author and presenter at national and state board continuing education courses on a variety of topics, including Prospective Payment System; Medicare Documentation; Ethics and Professionalism; Comprehensive Assessment of the Adult Patient; Quality Indicators: QA / QI; Customer Service; Nursing Documentation; Managing Dysphagia; Cognitive Rehabilitation and Dementia.

Jane has written two detailed manuals and useful guidelines on dysphagia and cognitive rehabilitation. Jane's book, Dementia: Interventions for Severe Cognitive Impairments, provides extensive intervention options for professionals dealing with individuals who have drastically reduced cognitive status. The book is intended for a variety of healthcare fields as well as caretakers.

Jane is a member of the American Speech-Language-Hearing Association, has served as a representative for the America Speech and Hearing Association's People to People Ambassador Program, and has previously served on the Wyoming Board of Examiners for Speech-Language Pathology and Audiology. She earned her undergraduate and graduate degrees in neuropathology from the University of Wyoming. Jane is presently the owner of two businesses: ProStar Communications, LLC, a professional communications firm, and Yakel Educations, LLC, a professional publishing firm.

Disclosures for Speakers:

Jane Yakel is the sole proprietor of ProStar Communications, LLC and Yakel Educations, LLC. PESI, Inc. pays her a speaking honorarium.

Jane Yakel is a non-financial member of the American Speech-Language-Hearing Association.
---