J.J. Mayo – Fueling Fitness & Peak Performance: Nutritional Strategies for Unleashing the Athlete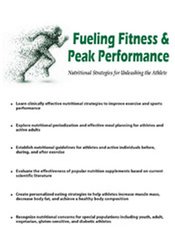 Salepage : J.J. Mayo – Fueling Fitness & Peak Performance: Nutritional Strategies for Unleashing the Athlete
Courses Content :
J.J. Mayo, Professor
6 hours and 11 minutes.
Audio and video formats are available.
Description: Copyright: December 18, 2014

Athletes and Active People Need Optimal Nutrition
Proper nutrition is essential for athletes and energetic people who wish to perform at their best. With so much dietary information available, it may be tough to differentiate reality from fiction. The drive to obtain a competitive advantage makes sportsmen vulnerable to marketing ploys and gimmicks that promise instant success. Many athletes are squandering time and money, and some may be jeopardizing their long-term health.

This video will equip you with a nutrition playbook to assist your clients in meeting their athletic performance objectives. Professionals that deal with athletes must be reliable and competent resources who provide easy, practical, and time-tested answers to their customers' sports nutrition issues. This DVD will provide listeners with the most recent evidence-based research in the areas of athlete meal planning, nutrient timing and periodization, and efficient nutritional supplement usage. During the recording, participants will be able to apply sports nutrition research into practice through hands-on demonstrations, sample laboratory results, and case studies.

Handouts

Fueling Fitness & Peak Performance Manual (4.06 MB)

Outline 129 Pages Available After Purchase

EXERCISE & SPORT NUTRITION

A Historical Look at Sports Nutrition
The six nutrient classes
A assessment of the Dietary Guidelines for Americans as a basis for good eating

How are nutritional recommendations developed?
General dietary advice for all adults
Are there distinct nutritional standards for athletes and active people?

BIOENERGY AND METABOLISM

Examine the three energy systems at work in nutrient bioenergetics.
Various sports employ energy systems.
Consumption of nutrients during rest and physical activity
Muscle fiber types and energy consumption
Laboratory data on maximum and submaximal exercise

ACTIVE ADULTS' ENERGY REQUIREMENTS

How many calories do athletes and other physically active people require?
Common approach for estimating energy requirements
Laboratory data on resting energy expenditure
Tracking energy intake and expenditure using technology

COMPOSITION OF THE BODY FOR SPORT AND EXERCISE

Methods for determining body composition
Sport performance and body composition
Weight goals and attaining ideal weight
Practical tips for athletes' weight control
Strategies for gaining muscle growth with power eating

RECOMMENDATIONS FOR ACTIVE ADULTS IN TERMS OF NUTRITION

Nutritional recommendations communication strategies that work
Carbohydrates, lipids, and proteins are required for strength and endurance sports.
A overview of micronutrient requirements for vitamins and minerals
Who is most vulnerable to micronutrient deficiencies?
The science of H2O: how hydration affects workout performance
Recommendations for hydration before, during, and after exercise
Answers to frequently asked hydration-related questions

Water vs. sports drink
What what is hyponatremia, and how serious is it?
Do sodas, tea, and coffee dehydrate you?

THE WORKOUT DIET

Guidelines for general meal planning (hands-on activity)
An Overview of Nutritional Periodization
Nutrient timing is a concept.
What to eat the week before a major event
Meal recommendations for pre-exercise—determine meal size, time, and macronutrient composition
Exercise fueling—what, when, and how much to consume during a game or competition
Post-exercise eating plans to aid recovery
Strength/power and endurance sports have their own set of rules.
Can a low carbohydrate/high fat diet (LCHF) boost performance?
Tips for Eating While Traveling

NUTRITION IN DIFFERENT ENVIRONMENTAL CONDITIONS

Nutritional issues for athletes competing in harsh environments

Humidity and heat
Cold\sAltitude

DIETARY SUPPLEMENTS AND ERGOGENIC ASSISTANCE

Important concerns for supplement use

Security, legality, and efficacy
Dietary Supplement Health and Education Act (DSHEA)
The NCAA and dietary supplements
The marketing machine: methods used by businesses to sell more things.
How to Determine the "Quality" of a Research Study
Ergogenic aids that work as advertised
Ergogenic aids with potential but insufficient proof
Ergogenic aids that do not work as advertised
How to Talk About Supplements with Athletes and Active People

POPULATIONS UNIQUE

When working with populations who have particular dietary needs, nutritional recommendations should be followed.

Vegetarians
Gluten-sensitivity
Eating problems
Diabetics
Children Senior citizens

CASE STUDIES OF SPORTS NUTRITION

Football player in high school
Soccer player in college
Athlete of endurance
J.J. Mayo, PhD, RD, is a member of the faculty. Seminars and items related to: 1

J.J. Mayo, PhD, RD, is an associate professor and the graduate coordinator of Arkansas Tech University's Strength and Conditioning Studies department in Russellville, Arkansas. He has 20 years of expertise in the health and fitness business as a certified dietician. Dr. Mayo's work has appeared in various scientific and trade journals, and he has been mentioned in publications such as Men's Health, US Weekly, and Bicycling Magazine. He is a National Strength and Conditioning Association Certified Strength and Conditioning Specialist.

Dr. Mayo meets with professional and leisure athletes on a regular basis to help them enhance their performance, particularly in endurance sports. He is a Boston Qualifier, has run multiple ultramarathons, and has done nine IRONMAN triathlons.

Disclosures for Speakers:

J.J. Mayo works as an associate professor at Arkansas Tech University. PESI, Inc. pays him a speaking honorarium.

J.J. Mayo belongs to the American Dietetic Association, the Arkansas Chapter of the American Dietetic Association, the American College of Sports Medicine, and the National Strength and Conditioning Association.
---