Heidi Huddleston Cross – Advanced Pressure Injury Course: Strategies for Prevention, Assessment & Treatment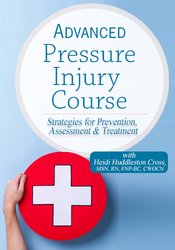 Salepage : Heidi Huddleston Cross – Advanced Pressure Injury Course: Strategies for Prevention, Assessment & Treatment
Courses Content :
Faculty:

Heidi Huddleston Cross

Duration:

5 Hours 47 Minutes

Format:

Audio and Video

Copyright:

Feb 28, 2018
Description
Outline
Pressure Injury Prevention
Evidence Based Guidelines
National Pressure Ulcer Advisory Panel
Wound, Ostomy, and Continence Nurses Society
The Etiology of Pressure Injuries
Mechanical load: Magnitude and time
Mechanisms that lead to tissue damage
Risk Factors and Risk Assessment
Assessing risk using the Braden Scale correctly
Intrinsic and extrinsic risk factors – you need to know
Skin and tissue assessment
Practice Tips for Prevention
Skin care: Moisturization is key
Repositioning frequency: Is it really every 2 hours?
Get those heels up!
The RIGHT surface at the RIGHT time
The Role of Nutrition in Pressure Injury Development
Lab values
Avoiding unintentional weight loss
Pressure Injury Assessment
Wound Assessment
Look at the whole patient, not just the hole in your patient
Necessary elements of wound assessments
Decisions, decisions: Is it incontinence associated dermatitis or a pressure ulcer?
Pressure Injury Staging
Deep tissue injury and medical device related injuries
Controversies
STAGING QUIZ!!!
Wound Infection and Complications
The emerging role of biofilms
NERDS and STONEES – huh?
Sepsis
Osteomyelitis
Malignancy
Recurrence
Avoidable vs. Unavoidable Injuries
Skin failure
Kennedy Terminal Ulcers
Skin Changes at Life's End (SCALE)
F-Tag 314
WOCN document
Antibiotic therapy
Pressure Injury Treatment
Wound Bed Preparation
The principle of TIME
Importance of cleansing
Debridement: What works, when and how
Basic Wound Dressings
The importance of moist wound healing
What needs to be on every formular
Vendor support and caveats
Advanced Wound Dressings and Therapies
When do we need to step it up and to what?
Antimicrobial dressings
There are so many……how to choose
Silver
Honey
Hydrofera Blue
PHMB
Iodosorb
Dakin's Solution and vinegar (yes, we still use it)
Hypochlorous Acid
Sorbact
Collagen dressings
Negative pressure wound therapy
Other modalities
Surgical Repair
Documentation Tips
What you need to know and what MUST be in the record
Examples of good documentation
Tips to keep yourself out of court
Faculty
Heidi Huddleston Cross, MSN, RN, FNP-BC, CWOCN Related seminars and products:
6
---
Heidi H. Cross, MSN, RN, FNP-BC, CWON, is a board-certified Wound and Ostomy Nurse and a board-certified Family Nurse Practitioner in Syracuse, NY. She has extensive experience caring for wound and ostomy patients in acute care, as well as in long term care facilities. Currently, she is employed by CNY Surgical Physicians consulting for nursing homes in the Syracuse area, and has her own independent practice as an expert witness for plaintiff and defense attorneys.
Ms. Cross is a member of the Wound, Ostomy and Continence Nurses Society, the Association for the Advancement of Wound Care, and the American Nurses Association. She has served on numerous committees related to wound and ostomy care, including as chair of the Wound Ostomy and Continence Nursing Certification Board examination committee, the credential and review committee, and the marketing committee. For the Wound and Ostomy Nurses Society, she is the co-chair of the National Conference Planning Committee ostomy track, has done peer review for the Journal of Wound Ostomy and Continence Nursing (JWOCN), and was the recipient of a grant from the Center for Clinical Investigation Research. She participated in developing the National Pressure Ulcer Advisory Panel's Clinical Practice Guidelines for Prevention and Treatment of Pressure Ulcers in 2014.
Speaker Disclosures:
Financial: Heidi Huddleston Cross receives an honorarium and consulting fee from Molnlycke. She receives a speaking honorarium from PESI, Inc.
Nonfinancial: Heidi Huddleston Cross is a member of the Wound, Ostomy and Continence Nurses (WOCN) Society.
---