Germayne Boswell Tizzano – Healing from Sexual Trauma: Using the Therapeutic Alliance with Adult Survivors to Uncover Childhood Sexual Abuse, Release the Past, and Build Resilience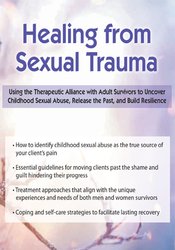 Salepage : Germayne Boswell Tizzano – Healing from Sexual Trauma: Using the Therapeutic Alliance with Adult Survivors to Uncover Childhood Sexual Abuse, Release the Past, and Build Resilience
Courses Content :
Faculty:

Germayne Boswell Tizzano

Duration:

6 Hours 16 Minutes

Format:

Audio and Video

Copyright:

Dec 14, 2018
Description
Outline
Helping Clients Confront Past Sexual Abuse
Childhood sexual abuse vs. other forms of sexual trauma
Definition, magnitude, perpetrators, circumstances, risk factors, signs of abuse
Listen to the narrative
The nuances of survival, resilience, and hope
Sexual Trauma, Neurobiology, and Implications to Work with Survivors
Neurological impacts of sexual abuse
Long-term behavioral, emotional, and physical effects of trauma
Body, trauma, and sexuality – Lessons from the perpetrator
Establishing a Therapeutic Alliance with Survivors
Effective guidelines for the therapeutic relationship in trauma work, safety and containment
Critical components to assess
Treatment objectives, phases, and the healing process
Comparative look at clinical interventions
Evolving practices of clinical interventions for survivors
Strategies for working with Survivors
Helping Survivors Navigate Difficult Realities
Complexities of sexual trauma, addiction, and sexuality
Re-victimization and recycling of abuse
Compulsion to repeat – domestic violence/intimate partner violence
Subsequent challenges in sexual intimacy and interpersonal relationships
Trauma and drug-linked triggers
Treating Men and Women Survivors
Key differences/similarities in men's and women's experiences with sexual trauma
Different responses and approaches to working with men and women survivors
Redefine masculinity and examine sex positive approaches to working with women survivors
Building Resiliency
Chronicling significant events that shape sexual values, attitudes, and beliefs
Psycho-education, wellness, coping and self-care strategies
Therapeutic tools and resources for recovery
Application of Clinical Knowledge with Case Examples
Reflections and implications for your clinical work
Faculty
---
GERMAYNE TIZZANO, PhD, is a speaker, author, and researcher on the subjects of childhood sexual trauma, sexual health for women and men with trauma and substance abuse histories, and intimate partner violence.  As owner and founder of Views From a Tree House, Inc., she provides healthcare professionals and university personnel with educational programs that offer tools and insight to effectively help survivors of sexual abuse and trauma. Her work spans a wide range of venues, including addiction and recovery centers, community correction facilities, HIV outreach programs, American Indian Affairs, and the World Association for Sexual Health, Gothenburg, Sweden.
With over 25 years of international speaking and training experience, Dr. Tizzano delivers a powerful message of compassion and hope that draws on her own history of 20 years of childhood sexual abuse. Using her findings as an avid researcher in neurobiology and the impact of childhood sexual trauma on the mind and body, she presents state-of-the art treatments and clinical interventions that can support survivors toward a journey of recovery.
Through the high-energy, didactic and experiential-based sessions Dr. Tizzano offers, attendees learn about the strategies and resources for mitigating the impact of sexual trauma. Participants come away with an in-depth understanding of the underpinnings of sexual trauma and ties to clinical challenges such as substance abuse and eating disorders. Restorative measures to heal from the treacherous impact of sexual abuse are presented with clarity, vision, and conviction.
Dr. Tizzano received a Ph.D. in Health Education with a specialty in Preventive Medicine from Ohio State University. She is the author of Sanctuary for Change, a 32-hour curriculum on healthy sexual recovery and intimacy for women survivors of sexual trauma.
Speaker Disclosure:
Financial: Germayne Boswell Tizzano is President and Founder of Views From a Tree House.  She receives a speaking honorarium from PESI, Inc.
Non-financial:  Germayne Boswell Tizzano has no relevant non-financial relationship to disclose.
---