George McCloskey – Improve Executive Functions: Evidence-Based Strategies to Change Behavior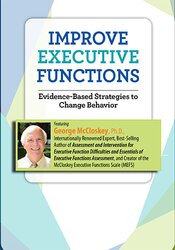 Salepage : George McCloskey – Improve Executive Functions: Evidence-Based Strategies to Change Behavior
Courses Content :
George McCloskey is a professor.
6 hours and 29 minutes.
Audio and video formats are available.
Date: April 02, 2019
Description

Executive Function (EF) abilities are the bedrock of success for people of all ages. Individuals with ADHD, Autism, OCD, and other illnesses, on the other hand, have major EF deficiencies, making it difficult for them to excel at school, job, home, and in their most critical relationships.

Your work with people who have EF difficulties is some of the most gratifying, but it is also some of the most frustrating and exhausting. Forgotten appointments, incomplete assignments, distractibility, procrastination, and difficulty organizing ideas all provide serious barriers to success in school or treatment. And the solutions that work so well for other situations appear to fall short when there is an EF deficiency.

Watch this recording to learn the specific skills and tools you'll need to foster long-term transformation and alter the lives of folks who deal with executive deficiencies – the chronically lost, late, and unprepared!

This fantastic tape features George McCloskey, Ph.D., the globally known founder of the McCloskey Executive Functions Scale (MEFS). Dr. McCloskey, an author, researcher, and clinician with over 20 years of breakthrough work with Executive Functions, will show you how to create tailored treatments that may be utilized with students or clients in a variety of contexts ranging from the private practice office to the classroom. Dr. McCloskey's ideas are practical and easy to implement, and will assist individuals you serve build important time/task management, personal organization, and planning skills, allowing them to improve their academic and occupational performance, relationships, physical and mental health, and more!

You'll leave this recording feeling confident in your capacity to halt the turmoil and radically improve the lives of individuals you work with, whether you're a counselor, teacher, OT, SLP, or social worker!

Handouts

Improve Your Executive Functions With This Manual (9.58 MB)

After Purchase, 111 Pages Are Available

ASHA Credit Instructions – SELF STUDY ONLY – 04/02/19 (38.5 KB)

Outline available after purchase

Overview of Executive Functions (EF)

Executive Function Neuropsychology
Levels, functional domains, and areas of participation
A closer look at the amount of self-regulation
7 clusters with a total of 33 functions
EF evolution throughout time
EFs, DSM-5® diagnoses, and educational levels

Create an Intervention Plan: Evaluate EF Strengths and Weaknesses

A multidimensional model to aid evaluation
Tests using norms, rating scales, and diagnostic interviews
Evaluating the influence of EF challenges on academic learning and productivity
Learning challenges vs production challenges
Functional Behavior Evaluation Based on EF

EF Development Strategies and EF Difficulties

Make a favorable environment for good transformation.
Create and apply growth attitudes.
The EF Intervention Timeline
Orienting techniques centered on outputs and goals
External behavior modification techniques include: Cueing, prompting, and speaking out loud
Transitioning from externally controlled to inwardly self-regulated techniques
Strategies for internal self-regulation: Improve independent functioning

Evidence-based Growth Programs and Resources

EFs should be developed in pre-school and kindergarten.
Models and programs for problem solving
Cognitive behavior therapy and cognitive strategy teaching
Approaches based on technology
Mindfulness practices and EF development

Research Limitations and Potential Risks

Faculty
Dr. George McCloskey has 5 related lectures and goods.
Professor and Director of the Philadelphia College of Osteopathic Medicine's School Psychology Research Psychology Department

George McCloskey, Ph.D., is a Professor and the Director of School Psychology Research at the Philadelphia College of Osteopathic Medicine's Psychology Department. He is also a Diplomate of the American Academy of Pediatric Neuropsychology. He routinely talks on cognitive and neuropsychological evaluation and intervention themes at international, national, regional, and state gatherings.

Dr. McCloskey has over 35 years of expertise in test creation, teaching, research, and assessment, as well as intervention work with a diverse spectrum of clients. Dr. McCloskey has developed a comprehensive model of executive functions based on his 25 years of research and experience working specifically with children, adolescents, and adults who exhibit executive function difficulties. This model can be used to assess executive function strengths and difficulties and guide efforts to foster growth and intervene with difficulties. He consults with a number of school districts and private schools across the country on issues such as improving students' self-regulation capacities in the classroom, behavior management, and assessment and intervention for executive function difficulties associated with academic and behavioral problems.

Dr. McCloskey is the creator of the McCloskey Executive Functions Scales (MEFS) and the lead author of the books Assessment and Intervention for Executive Function Difficulties and Essentials of Executive Functions Assessment. His most recent work on interventions for executive function and executive skills difficulties can be found in Chapter 11 of the book Essentials of Planning, Selecting, and Tailoring Interventions for Unique Learners.

Disclosures for Speakers:

Financial: George McCloskey is employed at the Philadelphia College of Osteopathic Medicine. As an author, he earns royalties from Taylor & Francis, Wiley & Sons, and Schoolhouse Press. PESI, Inc. provides Dr. McCloskey with a speaking fee.

George McCloskey does not have any relevant non-financial relationships to declare.
---