Ellen Horovitz – 2-Day Experiential Workshop: Yoga & Art Therapy Interventions for Anxiety and Mood Disorders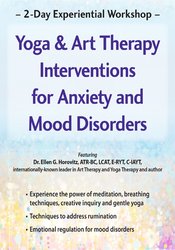 Salepage : Ellen Horovitz – 2-Day Experiential Workshop: Yoga & Art Therapy Interventions for Anxiety and Mood Disorders
Courses Content :
Faculty:

Ellen Horovitz

Duration:

12 Hours 13 Minutes

Format:

Audio and Video

Copyright:

Apr 29, 2019
Description
Outline
Art Therapy & Yoga Therapy
The psychotherapy behind art therapy and yoga therapy
Streamlining your reports using healthcare apps in treatment
Techniques for mood regulation (Sample: Breath of Joy)
Physical and Psychological Assessment
The Morris-Payne Assessment and its purpose (interactive)
Self-Pain Assessment for patients (interactive handout)
Genogram Analytics app (interactive and video)
BetterMind app (interactive)
(Case presentation of 22-year-old suicidal female using Apps)
Art Therapy Assessment (CATA, KFD, etc.)
Chair Yoga Techniques for Physically Challenged
Create a Safe Space for Client and Therapist: Safe Boundaries, Touch and Ethics
Establishing Confidentiality
Permission to modify, stop, redirect
Safe attention to the breath
Ritual of Invitation
Attention to Environment
Therapeutic Attitude and Body Language
Clinical Applications of Combining Art Therapy and Yoga Therapy Techniques to Build New Neuropathways
Psychosocial versus physical issues – starting with the body
Understanding the body from a physical and emotional platform
Current research in the field of art therapy, yoga therapy and mental health
Mood Disorders
Videos:
Bipolar child (11-year old male and his mother)
ADD 11-year old child and mother
Case studies
18-year-old Bipolar, adolescent (addiction disorder) and family)
23-year-old suicidal female
Physiological Dysfunction
Videos
65-year-old female stroke survivor
64-year-old female sexual abuse survivor
Case studies:
78-year-old depressed male and his wife: Couples' therapy
10-year-old ADHD (child custody case) and his family
Experiential Component: Yoga Therapy Techniques for Anxiety, OCD and PTSD
Warm-up, techniques:
Breathing and meditation techniques for mood management

Lift depressed mood
Calm an anxious mood

Sequencing: Counter poses, benefits, and modifications of each pose
Sound, breath and visual imagery to address both depression and anxiety
Yoga therapy strategies to incorporate: Body awareness, imagery
Reduce rumination and negative self-talk
Experiential Component: Art Therapy Techniques for OD, PTSD & Physical Challenges
Understand the development stages of art
Media selection
Warning signs in artwork
Reduce anxiety (mandalas, safe places)
Discharge anger (straws)
Physically challenged
Mindful doodling
Using fibers to quell OCD and PTSD
Worry dolls
Combining Yoga Therapy & Art Therapy Techniques and Beyond
Journaling
Combing mantras and postures
Collaborative art making
Family yoga therapy & art therapy techniques
Partner yoga therapy exercises
The importance of recapping
Assigning apps in between sessions
Sequence Wiz Yoga App
Assigning homework to increase emotional and physical regulation in between sessions
Smartline: HIPAA compliant formats for distributing homework and texting
Physiological and Psychological Effects of Incorporating Yoga Therapy and Art Therapy
Priming the brain using yoga and art
Elevation of mood
Dissolving chronic tension held in the body
Decrease symptoms of depression and anxiety
Complementing talk therapy with through somatic practice and mindful engagement
Release of repressed emotions stored in the body
Increased ability to self-regulate mood and cognition
Ethical implications of using these modalities and its limitations in your practice
Faculty
---
Dr. Ellen G. Horovitz, ATR-BC, LCAT, E-RYT, C-IAYT, is an internationally known leader and author in Art Therapy and Yoga Therapy, as well as a certified yoga therapist and psychotherapist.
She is Professor Emerita and founder of the Nazareth College graduate art therapy program, author of eight books and past president-elect of the American Art Therapy Association (AATA). In addition to being a professor and scholar, Dr. Horovitz has been in private practice for over 35 years and works clinically with individuals, couples, and families. She is a dynamic presenter who has given hundreds of lectures and workshops nationally and internationally.
Dr. Horovitz served as AATA board director for 12 years and was responsible for re-writing the national education standards and manuals for approved graduate programs. In addition, she was as an expert witness on art therapy education for the U.S. Department of Justice, has won numerous awards and received grants from many organizations, including a graphic consultant grant from the U.S. Department of Defense.
The topics of her books range from art therapy to yoga therapy to mainstream applications of digital photography, and she has authored over 50 juried articles and 17 book chapters. Dr. Horovitz is also an expert in the field of deafness/hard of hearing and her book, Visually Speaking: Art Therapy and the Deaf, has been translated into Korean. You can read more about her at www.yogartherapy.com and (www.ellenghorovitz.com).
Speaker Disclosures:
Financial: Ellen Horovitz is professor emerita at the Nazareth College of Rochester. She receives a speaking honorarium from PESI, Inc.
Non-financial: Ellen Horovitz is a member of the American Art Therapy Association.
---