Debra Dent – Spine Health & Trunk Stability: Influence of the Thorax & Respiration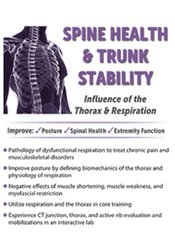 Salepage : Debra Dent – Spine Health & Trunk Stability: Influence of the Thorax & Respiration
Courses Content :
Debra Dent is a professor.
6 hours and 21 minutes.
Audio and video formats are available.
Date: October 26, 2016 Description

A Spinal Health, Stabilization, and Posture Solution Based on Evidence

As the center of trunk rotation, the thorax is an essential component of spinal function. Its role is important in moving weight from the lower extremities (LE) to the upper extremities (UE) through spinal areas. It serves as an excellent foundation for muscle and fascial connections affecting the cervical/UE and lumbo/pelvic/LE areas. The diaphragm has two functions: posture and breathing. Its links to the lumbar spine, abdominals, and pelvic floor, as well as its capacity to regulate intra-abdominal pressure, are critical for spinal stability and functional posture.

Posture, trunk stability, chronic pain, motion, and upper and lower extremity function are all affected by respiratory complex dysfunction, trunk muscle imbalances, muscular inhibition and weakening, myofascial limitations, loss of axial rotation, and chronic hyperventilation.

This recording expands your knowledge and skill set in the areas of spinal health, stability, and posture. Ms. Dent explains how the thorax and diaphragm must be included into a functional spinal program for long-term, beneficial patient results. Participants will learn how to restore and maintain regular breathing patterns for spine health and general patient well-being. Practice these approaches in an engaging, hands-on lab and walk away with the confidence to put them into action right away.

Handouts

Spine Health & Trunk Stability Manual (7.94 MB)

Outline 166 Pages Available After Purchase

Clinical Findings and Implications

Clinical observation and evidence-based practice
Clinical consequences on patient populations
Low back and SI joint discomfort that persists
Elderly scoliosis and trunk weakness
Hip and lateral knee discomfort that persists
Headaches and chronic cervical discomfort
Impingement of the shoulders
Thoracic outlet syndrome (TOS)
Fibromyalgia
Balance and gait issues
Athletic capability
Case studies – Is this your patient?
Chronic discomfort
Triathlete/marathon runner
Chronic neck and low back pain

Anatomy

Anatomy/biomechanics of the lungs and thorax
Anatomy of the thorax
Anatomy of the ribs
Biomechanics of the thorax
Biomechanics of CT junctions
Biomechanics of TL junctions
Musculature of the trunk
Inner-core group
The outer group
Oblique posterior
Longitudinal depth
Anterior\sLateral
hamstring/psoas integration
SCM, Scalenes, and C spine muscles
Muscles of inspiration Muscles of extinguishment
Respiratory mechanics
Mechanical effects of normal breathing
Respiratory physiology
Volumes of the lungs
Perfusion of the lungs
Hyperventilation/alkalosis
Integration of the face
The thoracolumbar fascia
IT band/lateral femoral fascia
Fascia abdominalis
Biomechanical interactions between the cervical spine and the iliac crest

Control of Neuromuscular Function

The effect of the central nervous system on muscular tone and mobility
Parasympathetic and sympathetic reactions

Laboratory Experiment

Techniques for evaluation and therapy
Assessment of posture in relation to respiratory function, UE, pelvic, and lumbar function
Respiratory mechanics
Breathing techniques include diaphragmatic, lateral costal, sternal, and apical breathing.
Position of the diaphragm
Arm lift when seated
Rotation of the seated trunk
Torque at rest
Muscle function evaluation
SLR in the supine position
Active arm lift and prone active SLR
Pelvic floor function, TA, and multifidus
System of the posterior oblique
System of the anterior oblique
The lateral system
Rib mobility and position assessment, as well as active mobilizations
Techniques for length assessment and lengthening
Entry-level facilitating training program
Case studies, assessments, treatments, and results

Theoretical Foundations and Evidence-Based Practice

Breathing patterns that are suboptimal
Over-inflation
Breathing from the upper chest
The impact of diaphragm and thoracic limitations on the lumbar spine/hips/LE, C spine and UE- trunk rotation or absence of trunk rotation
Posture and poor load transfer
The trunk's stability as well as the diaphragm/core/incontinence
The superficial trunk muscle hypertonicity/overactivation
Chronic low back and SI joint discomfort that is difficult to manage
Elderly scoliosis and trunk weakness
Hip and lateral knee discomfort that persists
Headaches and chronic cervical discomfort
Shoulder impingement problems
Thoracic outlet syndrome (TOS)
Fibromyalgia
Balance and gait issues
Athletic capability
The implications of respiratory alkalosis/hyperventilation
Chronic fatigue syndrome, fibromyalgia, and chronic pain
Debra Dent, BPT, Dip Manip PT, OCS, FCAMPT, is a member of the faculty. Seminars and items related to: 1

Debra Dent, BPT, Dip Manip PT, OCS, FCAMPT, has over 40 years of expertise in spinal manual therapy. She got her Diploma of Physiotherapy and Bachelor of Physical Therapy from the University of Manitoba in Canada. Ms. Dent has an Advanced Diploma in Manual and Manipulative Physiotherapy and is a member of the Canadian Academy of Manual Therapists (FCAMPT). She is a Canadian Physiotherapy Association Part B Manual Physical Therapist and an Orthopedic Certified Specialist (OCS).

Prior to migrating to the United States, Ms. Dent worked as an educator for the Canadian Physiotherapy Association. She has served as a guest clinical teacher at the University of South Florida, where she taught the Spinal Manual Therapy Degree for the MScPT undergraduate program, and she has taught a variety of manual therapy courses around the United States and Canada.

Ms. Dent is the proprietor of Cross Border Seminars and works as a consultant and contract physical therapist in Palm Harbor, Florida. Her major case load includes rheumatology/fibromyalgia patients, as well as a variety of associated dysfunctions, aging, and osteoporosis.

Disclosures for Speakers:

Financial: Cross Border Seminars is owned by Debra Dent. PESI, Inc. pays her a speaking honorarium.

Debra Dent does not have any relevant non-financial relationships to declare.
---