David Ley – Modern Sexual Issues in Clinical Practice: What Every Clinician Needs to Know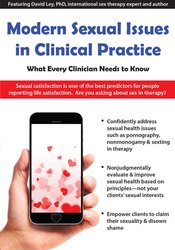 Salepage : David Ley – Modern Sexual Issues in Clinical Practice: What Every Clinician Needs to Know
Courses Content :
Faculty:

David Ley

Duration:

6 Hours 19 Minutes

Format:

Audio and Video

Copyright:

Jul 22, 2019
Description
Outline
Assessment of Sexual Health Issues
The impact of the Internet on sexuality
Sexuality's impact on presenting issues
Self-assessment strategies for clinician bias
Treat sex like a behavior – not a disease
Allow the client to explore ambivalence
Is sex a cause or symptom?
Holistic perspective to evaluating sexuality
Principle-based model of sexual health
Assessment tool: Sexual sensation seeking scale
Sex addiction
Limitations of research & potential risks
Sexting: Assist Teens & Adults with the Safe Use of Technology
Sex, technology & changing social values
Legal ramifications of teen sexting
Sexting's impact on body image
Mitigate effects of bullying, harassment & exploitation
Educate teens about safety & responsibility
Help teens choose a "cyber buddy"
Harm-reduction strategies for sexting
Case Studies: Teen sexting & adult sexting
Pornography: Help Clients Achieve Healthy Use of Pornography
Resolve moral/religious conflicts about porn use
Assess ideals of sexual property within relationships
Assist couples in negotiating boundaries around pornography use
Minimize attention & focus on problems
Help clients take proactive steps to make values-consistent decisions easier
Strategies for healthy porn use
Case Studies: Healthy & unhealthy porn use
Casual Sex: Strategies to Help Clients Balance Values & Sexual Activity
Casual sex & its implications for depression
Shame, stigma & female sexuality
Help clients evaluate their values
Determine the benefits of casual sex for the client
Help clients determine if casual sex is right for them
Shame reduction strategies
Case Studies: Casual sex, shame & values
Consensual Nonmonogamy: Navigate the Complexities of Non-Traditional Relationships
Types of open relationships
The impact of nonmonogamy on families, children & mental health
Issues to Address in Therapy
Is nonmonogamy right for the relationship?
Create boundaries
Time sharing
Communication
Jealousy triggers
Case Studies: Stressors on non-monogamous relationships; polyamorous and swinging relationships
Sexual Orientations: Confidently Address Sexual Issues of Unique Clinical Populations
Gender vs sexuality
The blurring line between heterosexuality & homosexuality
How is orientation determined?
What does the term mean to your client?
Understand the function of the term for the client
Assist clients with understanding orientation as part of their healthy sexuality
Support transgender kids & teens in therapy
Case Studies: Transgender teens; sexual fluidity
BDSM & Kink: Nonjudgmentally Discuss Personal Sexual Issues with Clients
Paraphilic disorders vs paraphilia
Common misconceptions
Ask, "What does BDSM/Kink mean to you?"
Separate trauma from BDSM in therapy
Address unwanted fantasies & fetishes
Educate clients about healthy sexuality
Help clients negotiate boundaries & consent
Case Studies: What's the real problem here?
Faculty
---
David Ley, PhD, is a licensed psychologist and internationally-recognized expert on issues related to sexuality, pornography, and mental health. He has served as an expert consultant for numerous media outlets, appearing with Anderson Cooper, Katie Couric, Dr. Phil, Tom Ashbrook, and Dan Savage. He has also been interviewed in publications ranging from the LA Times to the London Telegraph, and he has published extensively in both the academic and pop realms of literature. His books, The Myth of Sex Addiction (2012) and Insatiable Wives (2009), were revolutionary explorations of sexual issues which blended a powerful client-centered narrative with a rich understanding of psychology, biology and sociology. 
Dr. Ley has provided treatment around sexuality-related issues for over 20 years, ranging from treatment of sexual offenders to counseling alternative sexuality couples and individuals. He has consulted with treatment programs around the world about addressing sexuality issues in their treatment. At the same time, he is executive director of a large behavioral health and substance abuse outpatient program, and supervises treatment to thousands of patients every year. As a result, Dr. Ley is able to bring a broad, practical approach to help mental health clinicians effectively address sexuality-related issues.
Speaker Disclosures:
Financial: Lane David Ley is executive director for New Mexico Solutions. He receives a speaking honorarium from PESI, Inc.
Non-financial: David Ley is co-chair of the New Mexico Youth Provider Alliance/New Mexico Behavioral Health Provider Association.
---