David C. Brillhart – Mad as Hell: End Your Client's Struggle with Anger and Help Them Gain Control of Their Lives with Clinical Strategies That Get Results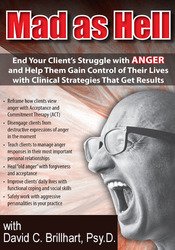 Salepage : David C. Brillhart – Mad as Hell: End Your Client's Struggle with Anger and Help Them Gain Control of Their Lives with Clinical Strategies That Get Results
Courses Content :
Faculty:

David C. Brillhart

Duration:

5 Hours 59 Minutes

Format:

Audio and Video

Copyright:

May 18, 2018
Description
Outline
What We Resist, Persists: Why Fighting/Hiding Our Anger Doesn't Work
The fight-flight-freeze response of anger
Understand the contextual role of anger through ACT
The cost of avoidance
Target populations

Oppositional Defiant Disorder, Conduct Disorder, Antisocial Personality Disorder, Depression, Substance Abuse, Trauma

Mindful engagement techniques for resistant clients
Address Maladaptive Anger Reactions Before They Start: Reframe Dysfunctional Thoughts with ACT
Triggers – Identification and strategy selection
Experiential exercise: Values clarification
Cognitive defusion from judgmental thoughts
Intervene in unwanted thoughts and self-judgment
Values-guided behavior choices while in the grip of anger
Handle Destructive Anger Expressions in the Moment: Skills that Tame the Anger Response
Mindfully monitor indicators of anger
Mindfulness techniques to reduce the anger response

Reset with breath
Guided imagery
Carry out goals in the midst of anger

Disengagement strategies
Facilitate Forgiveness with Acceptance: Therapeutic Strategies That Address Old Anger
3 reasons why forgiveness (and self-forgiveness) is never easy
Prerequisites to letting go of the past
Conduct a cost-benefit analysis intervention
Experiential exercise: Letting go of the past
Teach Clients to Communicate Anger Constructively and Without Aggression
Communicate anger effectively with "I" statements
The active role of acceptance in the midst of anger
Experiential exercise: Living with vs. Living in anger
Mindfully respond to anger in interpersonal relationships
Handle Difficult (and Angry) Clients in the Clinical Setting
Respond contextually to avoid automatic defensiveness
Modeling flexibility and acceptance
In-session strategies that keep you safe
Experiential exercise: Seeing your clients through their eyes
Faculty
---
David C. Brillhart, Psy.D., is a licensed psychologist specializing in Acceptance and Commitment Therapy (ACT) and Eye Movement Desensitization and Reprocessing (EMDR). His success using ACT in helping let go of their struggle with anger spans a wide range of individuals and couples, as well as those in forensic and correctional settings. His book chapter on ACT was recently published in Individual Psychological Therapies in Forensic Settings (Davies & Nagi, Eds., 2017).
Dr. Brillhart has considerable forensic clinical experience using ACT with high-risk, special needs, and serious persistent mental illness sexual offenders. His research in this area was presented at several national and international conferences including: The 2009 Association for the Treatment of Sexual Abusers (ATSA); the 2010 American Psychological Association (APA); the 2010 Mental Health in Corrections Conference (MHCC); and the 2012, 2013, 2014 ACBS Annual World Conferences, and the 2015 SE ACBS Chapter Conference where he premiered his ACT Behind Bars Forensic and Corrections-based workshop trainings. He has presented and lectured audiences on the use of ACT with these most challenging populations.
Working with difficult-to-treat forensic and correctional clients, and individuals with chronic emotional and physical pain, has afforded Dr. Brillhart the opportunity to hone his therapeutic skills. As an interactive and solution-focused psychologist, Dr. Brillhart offers highly personalized support and practical feedback to help clients effectively navigate life challenges. By integrating ACT and EMDR, Dr. Brillhart infuses compassion and understanding to work with each client's ability to build on their strengths and navigate personal growth amidst life's "roadblocks."
Dr. Brillhart earned his Masters and Doctorate degrees in Clinical Psychology with Forensic Specialization from The Chicago School of Professional Psychology.
Speaker Disclosures:
Financial: David Brillhart is in private practice. He is the clinical supervisor at Mid-Valley Pain Clinic. Dr. Brillhart receives a speaking honorarium from PESI, Inc.
Non-financial: David Brillhart is a member of the American Psychological Association; Oregon Psychological Association; Association for Contextual Behavioral Science; and EMDR International Association.
---