Colleen Sleik – The Hands-On Guide to Vestibular Rehabilitation: Clinical Decision-Making to Treat Vertigo, Dizziness, & Balance Disorders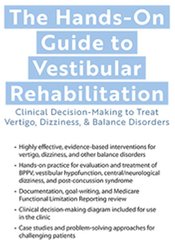 Salepage : Colleen Sleik – The Hands-On Guide to Vestibular Rehabilitation: Clinical Decision-Making to Treat Vertigo, Dizziness, & Balance Disorders
Courses Content :
Faculty:

Colleen Sleik

Duration:

6 Hours 26 Minutes

Format:

Audio and Video

Copyright:

Jun 13, 2019
Description
Handouts
| | | | |
| --- | --- | --- | --- |
| | Manual – The Hands-On Guide to Vestibular Rehabilitation (4.69 MB) | 110 Pages | Available after Purchase |
| | Instructions for ASHA Credit – SELF STUDY ONLY – 06/13/19 (38.5 KB) | | Available after Purchase |
Outline
ASSESSMENT TECHNIQUES FOR DIFFERENTIAL DIAGNOSIS
Position modifications for patients with mobility limitations or in environments with limited space such as home health or acute care
Clinical decision-making large group activity to apply assessment techniques and interpret findings
Recognize assessment findings that indicate central, peripheral, and cervicogenic dizziness diagnoses
Determine a therapy diagnosis based on patient history, onset, symptoms and assessment
MEDICAL DIAGNOSES AND PROGNOSIS: PERIPHERAL & CENTRAL ORIGIN
Benign Paroxysmal Positional Vertigo
Vestibular neuronitis, labyrinitis
Meniere's disease, endolymphatic hydrops, acoustic neuroma
Central vertigo: CVA, multiple sclerosis, migraine-associated
Cervicogenic vertigo
Post-concussion syndrome
Sensory integration/Multi-factorial balance dysfunction
EXAM LAB
Clearing cervical spine: mVAT, Sharp-Purser test
Occulomotor exam: Smooth pursuit, Saccades, Vergence and visual acuity
Vestibular exam: Head thrust, Head-Shaking Nystagmus, Hallpike-Dix, Roll Test
Assessing nystagmus: Horizontal, vertical, torsional
Motion sensitivity quotient
Balance assessment: mCTSIB, Dynamic Gait Index, Gait
VESTIBULAR REHABILITATION: DEVELOPING A PATIENT-SPECIFIC TREATMENT PLAN
Canalith repositioning maneuvers: Epley maneuver, BBQ roll / quick BBQ roll, Cassani, Appiani, Brandt-Daroff Exercises
Gaze stabilization: Basic and advancements
Balance progression
Sensory integration in balance Evidence-based Functional Assessment Tools
Vestibular EDGE recommendations from the Academy of Neurologic Physical Therapy
Direct each of the 4 areas of treatment for vestibular rehabilitation
Faculty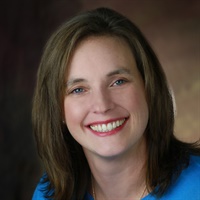 Colleen Sleik, PT, DPT, OCS, NCS Related seminars and products:
6
Focus On Function Physical Therapy PC
---
Colleen Sleik, PT, DPT, OCS, NCS, is a licensed physical therapist, specializing in the treatment of patients with vestibular disorders when other forms of medical management have failed. Dr. Sleik founded a private practice in 2010 with the primary focus of treating patients with vestibular conditions. She continues to work as a specialist at Dickenson Rehab Services where more than 90% of her caseload consists of patients with vestibular and balance disorders.
Dr. Sleik graduated from The College of St. Catherine with a Master's in physical therapy. She earned a transitional Doctor of physical therapy degree through The University of St. Augustine, Florida, and completed the Competency-Based Vestibular Rehabilitation course through Emory University in Atlanta, Georgia. In addition to board-certification as an Orthopaedic Clinical Specialist and Neurologic Clinical Specialist, Dr. Sleik is a member of the American Physical Therapy Association, including the Academy of Neurologic Physical Therapists, and the Vestibular Special Interest Group.
She began teaching continuing education courses in vestibular rehabilitation with the purpose of improving clinicians' knowledge in the specialty of vestibular rehabilitation and ultimately improving the quality of patient care. Dr. Sleik's goal as a clinician is to provide her patients with the best care available for return to daily function with minimal limitations, while also providing the tools for long-term self-management of symptoms.
Speaker Disclosures:
Financial: Colleen Sleik has an employment relationship with Dickinson County Health Care System; and Aegis Therapies, Golden Living Center. She receives a speaking honorarium from PESI, Inc.
Non-financial: Colleen Sleik is a member of the American Physical Therapy Association.
---