[Audio Only] EP95 WS29 – A Rational Emotive Behavioral Approach to Relationship Therapy – Albert Ellis, Ph.D.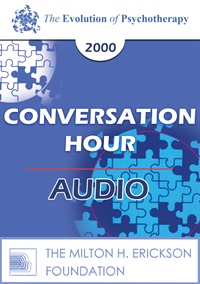 Salepage : [Audio Only] EP95 WS29 – A Rational Emotive Behavioral Approach to Relationship Therapy – Albert Ellis, Ph.D.
Courses Content :
Workshop Topics: Evolution of Psychotherapy | Evolution of Psychotherapy 1995
Professor Albert Ellis, Ph.D.
2 hours and 44 minutes.
Audio-Only Format
Original air date: December 16, 1995
Description

Description:

This program will teach women and men cognitive experiential and behavioral skills to aid them in their personal relationships. There will be a specific emphasis on personal and professional male/female interactions, as well as how to deal with negative reactions to "out of role" conduct, such as assertiveness in women and closeness in males. There will be live demonstrations.

Objectives of Education:

To identify four barriers to successful relationships that men and women face.
List four Rational Emotive Behavior Therapy (REBT) approaches that can help men and women enhance their relationships.

*Content and confidentiality may be modified during sessions*

Faculty

Dr. Albert Ellis Seminars and items related to: 67

Albert Ellis, PhD, was an American psychologist who created Rational Emotive Behavior Therapy in 1955. (REBT). He earned his M.A. and Ph.D. in clinical psychology from Columbia University and was a member of the American Board of Professional Psychology (ABPP). He also created and served as President of the Albert Ellis Institute in New York City for many years.

He is widely regarded as one of the inventors of cognitive-behavioral treatments and one of the originators of the cognitive revolutionary paradigm shift in psychotherapy.

[2]

According to a professional survey of US and Canadian psychologists conducted in 1982, he was recognized as the second most important psychotherapist in history (Carl Rogers was ranked first and Sigmund Freud was placed third).

[3]

[4]

"No individual—not even Freud himself—has had a larger influence on modern psychotherapy," according to Psychology Today.

[5]

Albert Ellis's profile may be found at Albert Ellis.com.