Angela Mansolillo – Complex Feeding & Swallowing Problems in Children: Discover the Underlying Causes of Food Refusal for a More Targeted Treatment Plan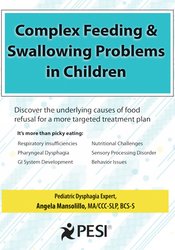 Salepage : Angela Mansolillo – Complex Feeding & Swallowing Problems in Children: Discover the Underlying Causes of Food Refusal for a More Targeted Treatment Plan
Courses Content :
Angela Mansolillo, Professor
5 hours and 56 minutes.
Audio and video formats are available.
Copyright: November 1, 2019
Description

Creating a Menu for Success

Feeding and swallowing problems in children are always diverse, frequently misunderstood, and difficult to detect and treat effectively.

Respiratory problems, gastrointestinal disorders, oral-motor abilities, and behavioral challenges are just a few of the factors that might interfere with feeding and swallowing, restrict responsiveness to therapy, and result in serious health problems.

To be most successful, doctors must avoid the impulse to examine and treat eating and swallowing issues separately; instead, they must create care strategies that account for connections between and among the oral-motor, gastrointestinal, and respiratory systems.

This crucial course recording discusses complicated eating and swallowing issues in children with a wide range of diseases.

Attendees learn effective ways for determining the underlying cause of dysphagia. The evidence foundation for various therapy, such as oral-motor procedures, behavioral interventions, dietary interventions, and respiratory control measures, is assessed.

Arm yourself with realistic recommendations and approaches for increasing function in these difficult youngsters, as well as compelling research to back up those strategies!

Handouts

Complex Feeding and Swallowing Issues in Children (3.9 MB)

After purchase, 118 pages are available.

ASHA Credit Instructions – SELF STUDY ONLY – 11/01/19 (38.5 KB)

Outline available after purchase

DEVELOPMENT AND FUNCTIONS OF THE RESPIRATORY SYSTEM

If you can't breathe, you can't eat.
Breathing/Swallowing Discoordination and cohesion
The Function of Pulmonary Clearance
Aspiration and pneumonia caused by aspiration
Include respiratory indications in the assessment.
Exercise interventions for breathing/swallowing dysfunction and respiratory insufficiency

THE PHARYNGEAL DYSPHAGIA

Clinical evaluation is critical!
Options for instrumented evaluation
Enhancing pharyngeal swallowing function
Interventions to reduce the risk of aspiration
Texture changes and thick liquids are examples of dietary adjustments. advantages and disadvantages
Dental hygiene
What your client's instinct is telling you in an interactive case review

DEVELOPMENT OF GI SYSTEMS

The relationship between the digestive system and the respiratory system
Reflux Disease and Reflux
Constipation\sAllergies
Interventions in diet and lifestyle
Food allergies and the digestive tract
Sleep and positioning

ORAL MOTOR ACTIVITY

Postural stability is important.
Oral muscles are not the same as skeletal muscles.
Are exercise interventions appropriate for your client?

Eating and sensory processing are inextricably linked.

Food as medicine
The significance of taste and scent
Strategies for expanding one's food repertoire

WHEN IT IS REALLY BEHAVIOR

What is the form AND function of the behavior?
Investigating the feeding environment
Choosing the Best Reinforcement Strategy
5 steps to behavioral intervention:
Environment, hunger, reinforcement, shaping, and parental instruction are all factors to consider.
When it's behavior…but not simply behavior – interactive case review

WASHING AFTER TUBE FEEDING

Preparing the Gut
Weaning Methods: Rapid vs. Gradual
Dietary combinations
Tube Feed Weaning Techniques
When and who should use a blended diet?

MORE NUTRITIONAL INTERVENTIONS for Pharyngeal Dysphagia, Gastrointestinal Development, Oral Motor Function, Sensory Processing, Behavior, and Tube Feeding

Nutrition and immune system performance
Supplements
Which particular diets are truly unique Techniques for improving nutrition
Faculty
MA/CCC-SLP, BCS-S Angela Mansolillo 10 related lectures and goods

ANGELA MANSOLILLO, MA/CCC-SLP, BCS-S, has over 30 years of experience as a Speech-Language Pathologist and Board-Certified Specialist in Swallowing Disorders. She is now a senior Speech-Language Pathologist at Cooley Dickinson Hospital in Northampton, Massachusetts, where she evaluates and treats adults and children with dysphagia and is involved in program planning and development for inpatient and outpatient programming, including quality improvement initiatives, patient education, and clinical policies and protocols. She is also an adjunct professor at Elms College's Department of Communication Sciences and Disorders in Chicopee, Massachusetts. She has worked in a range of clinical settings, given several regional and national presentations, and spoken at a number of schools and institutions around Massachusetts. Angela is a popular lecturer for both live and online continuing education classes because she smoothly combines current research with clinical expertise. She just received the Massachusetts Speech and Hearing Association's Clinical Excellence Award.

Disclosures for Speakers:

Angela Mansolillo has a financial relationship with Cooley Dickinson Hospital. PESI, Inc. pays her a speaking honorarium.

Non-financial: Angela Mansolillo is an American Speech-Language-Hearing Association board certified specialist in Swallowing and Swallowing Disorders.
---